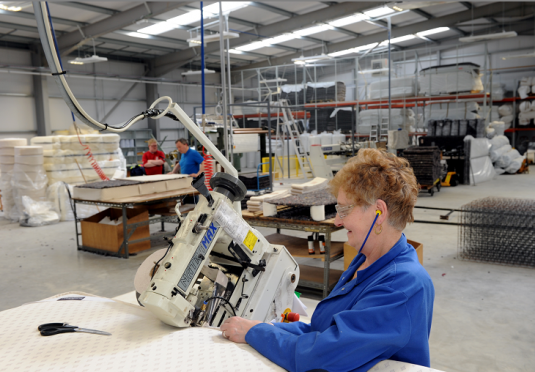 One of the north-east's leading social enterprises has been forced to switch to a three-day week because of the downturn in the oil and gas industry.
Glencraft, which provides employment for blind and partially-sighted workers, produces mattresses and bed products to businesses and individuals across Aberdeen, Aberdeenshire and the rest of Scotland.
It counts the Queen's Balmoral Estate among is customers/
But the oil price slump has forced the Aberdeen-based company to cut costs as the local energy industry tightens its belt.
Duncan Skinner, the chairman of Glencraft, said: "Unfortunately, we've been impacted like everyone else in the town due to the oil price collapse.
"About 70% of our business is providing the safest mattresses around to those in the offshore community, working in the oil and gas industry.
"They've been very, very good to us over the years, but although it's not quite a discretionary spend, it is a spend that they can defer.
"We're down 40% this year on last year, we've been incurring losses.
"This year we've lost quite a lot, so we're having to take the sensible step to match income and costs, although of course it comes with a very heavy heart that we've had to put our people on to a short working week."
Although all Glencraft staff will only be allowed to work a maximum of three days a week, Mr Skinner said finding new customers outside the oil and gas sector could change that.
He added: "It is temporary, we hope.
"But we've got some good opportunities coming up, we've just signed a contract with City Building in Glasgow, and a pretty decent opportunity to get a contract with one of the central belt city councils, which would be pretty substantial, so there are non-oil and gas opportunities around.
"We would really appreciate it if all those in the business community and private individuals who are needing new mattress would consider us, as we really need all the support we can get."