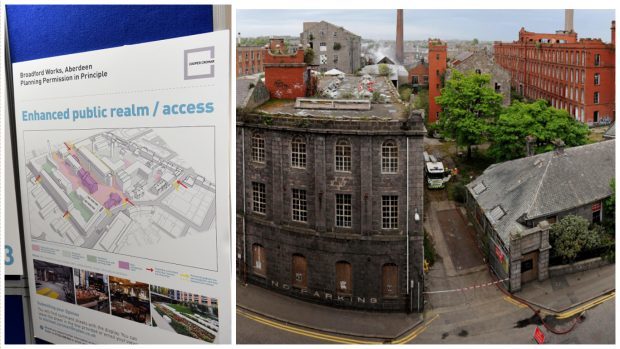 Plans to transform a dangerous and derelict factory site in Aberdeen into a multi-million-pound urban village full of flats, shops and amenities, have moved a step closer to fruition.
The Broadford Works site has lain abandoned and unused since the former textile factory closed its doors in 2004.
It had been earmarked for a £50million redevelopment for years, after north-east tycoon Ian Suttie received consent to build more than 500 homes and commercial units on the site.
However, in the years since Mr Suttie gained permission to carry out his plans, nothing has emerged at the site – which contains the biggest collection of at-risk buildings in Scotland – and it has fallen into ruin after being repeatedly targeted by vandals and fire-raisers.
However, last November, Ferness Investment Holdings Ltd submitted a separate proposal to Aberdeen City Council, outlining plans to create 890 units at the site, including restaurants, cafes, bars, and nurseries, as well as private rental apartments and student accommodation.
Now, following a public consultation in December, the company's plans have taken a step forward, and an early report will be considered on January 14 at the local authority's pre-application forum to identify any key issues arising.
Once obvious issues with the application have been identified and considered, the developers could move on to the next stage of the planning process.
A spokesman for Ferness Investment Holdings said: "We were very happy with how the public consultation went at the end of last year, and really appreciated the feedback from the community.
"We look forward to building further momentum throughout 2016."
Aberdeen Central MSP Kevin Stewart has long campaigned for development to begin at the Broadford Works site.
He said: "I am hoping to meet the developers in the near future to discuss their plans.
"What I would be hoping for is the protection of the listed buildings on the site which are of huge historical importance to the city.
"Beyond that, I would want to ensure there is not too much cramming of new facilities on the Broadford Works site.
"The developers would also have to ensure they live up to all of the obligations required of them, including providing affordable housing.