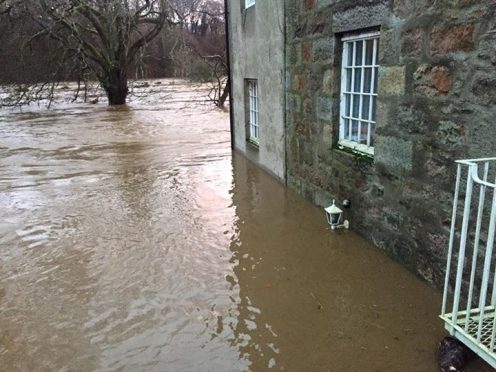 An Aberdeen man has spoken about how he witnessed the roaring River Don wash away almost 50ft of greenery on his doorstep and completely submerge his neighbour's flat.
The north-east river burst its banks on Thursday evening, causing chaos in riverside communities across many parts of Aberdeen and Aberdeenshire.
At Kettocks Mill, in Bridge of Don, the peace and quiet of the community was shattered by the surging waters of the river, which tore a path some 48ft wide of its usual boundary.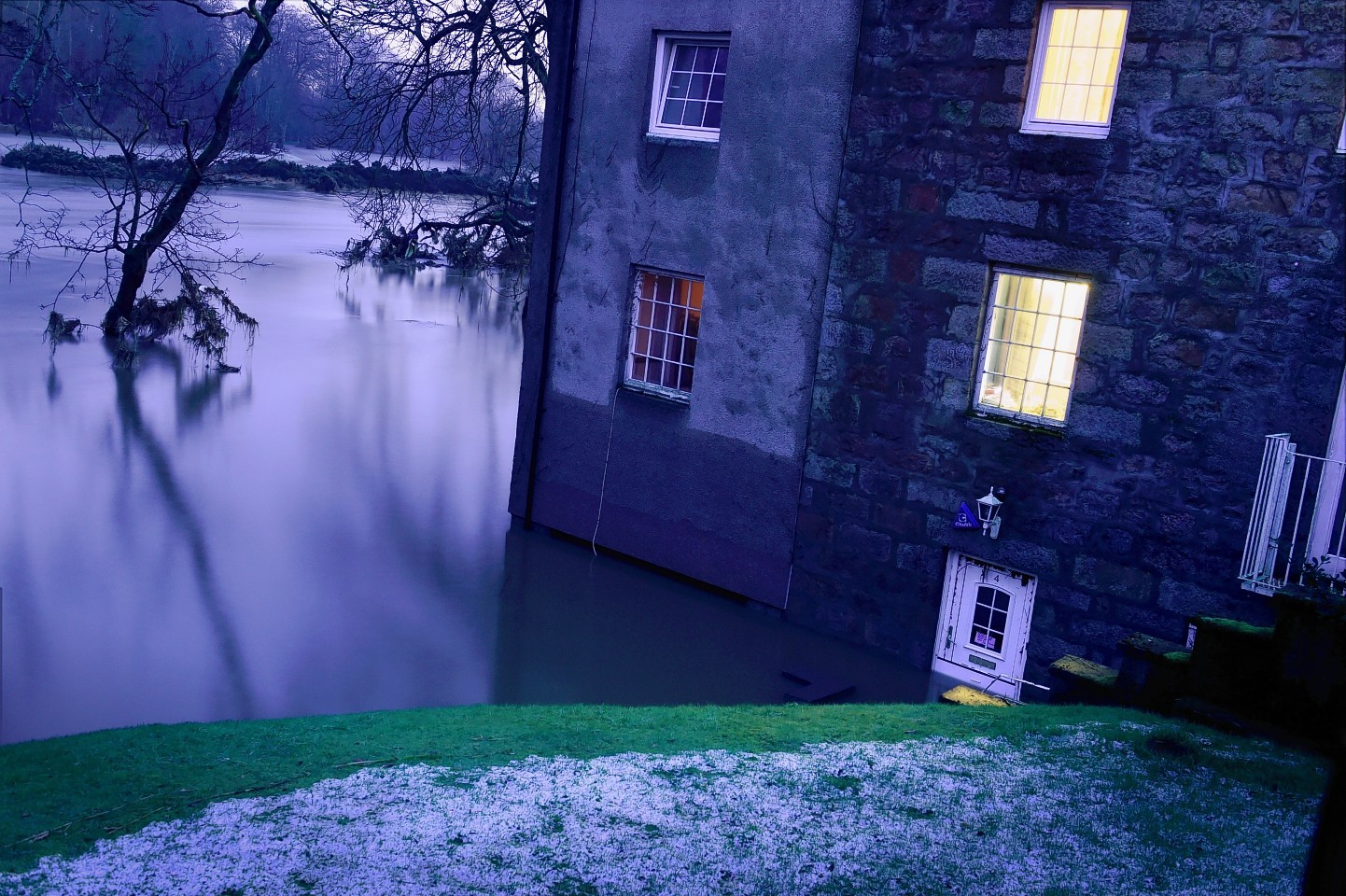 Doug Haggarty and his wife, Dawn, were hoping the worst of the floods had passed by last weekend; however, on Tuesday and with rain continuing to fall, they grew increasingly concerned.
The couple – who have a newborn baby – watched as the ground floor flat belonging to their neighbour was completely consumed by the river, to the point where the front door was not even visible.
Mr Haggarty, 44, said: "The ground floor was completely under water. The owners left earlier in the week. They have been out since January 4 or 5.
"We didn't, fortunately, have any water [come] in. We were pretty lucky because it was literally inches from us. The first sandbags that went in went into the waters.
"At 4am, I woke up just to check and we decided we had to do something about it. We got some sandbags, but by the time we came back, the water was at the front door and it was right outside our window.
"It got pretty horrible. I am hoping this is going to be an exceptional circumstance."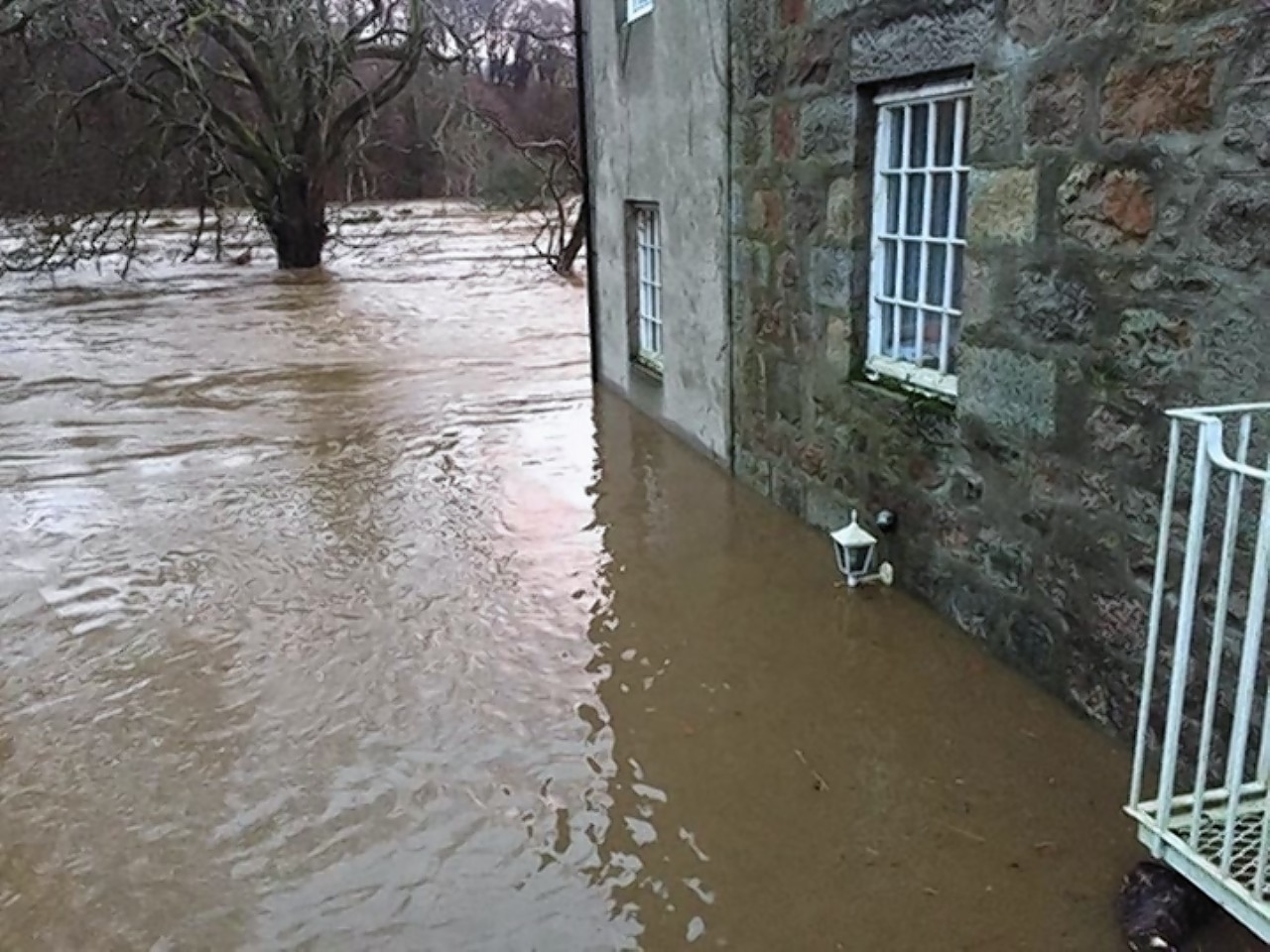 Mrs Haggarty added: "It would have been more terrifying if our access point had been flooded, but we always knew that we could walk out the front.
"We thought there is no way we could get flooded, because we are in a first floor flat. Deep down, we didn't think it would be possible.
"You should have seen the things going past us down the river – hay bales, tyres and the roofs of sheds."
Neighbour, Stacey Morrison, 25, lives at the redeveloped mill with her partner, David Gebbie and their children Kash and Cruz.
She said: "It is scary to think that can happen overnight. To open up your window and see a whole river in your garden is crazy. The speed of it was really, really quick.
"One of the guys has lived here 25 years and he said he had never seen anything like that at all.
"The fire brigade was here trying to pump out the flooded flat, but I think they just had to say to him 'there is nothing you can really do'.
"But everyone has been pulling together."
Meanwhile Grandholm Village was described as "chaotic" on Thursday night as the riverside community came to the brink of disastrous flooding.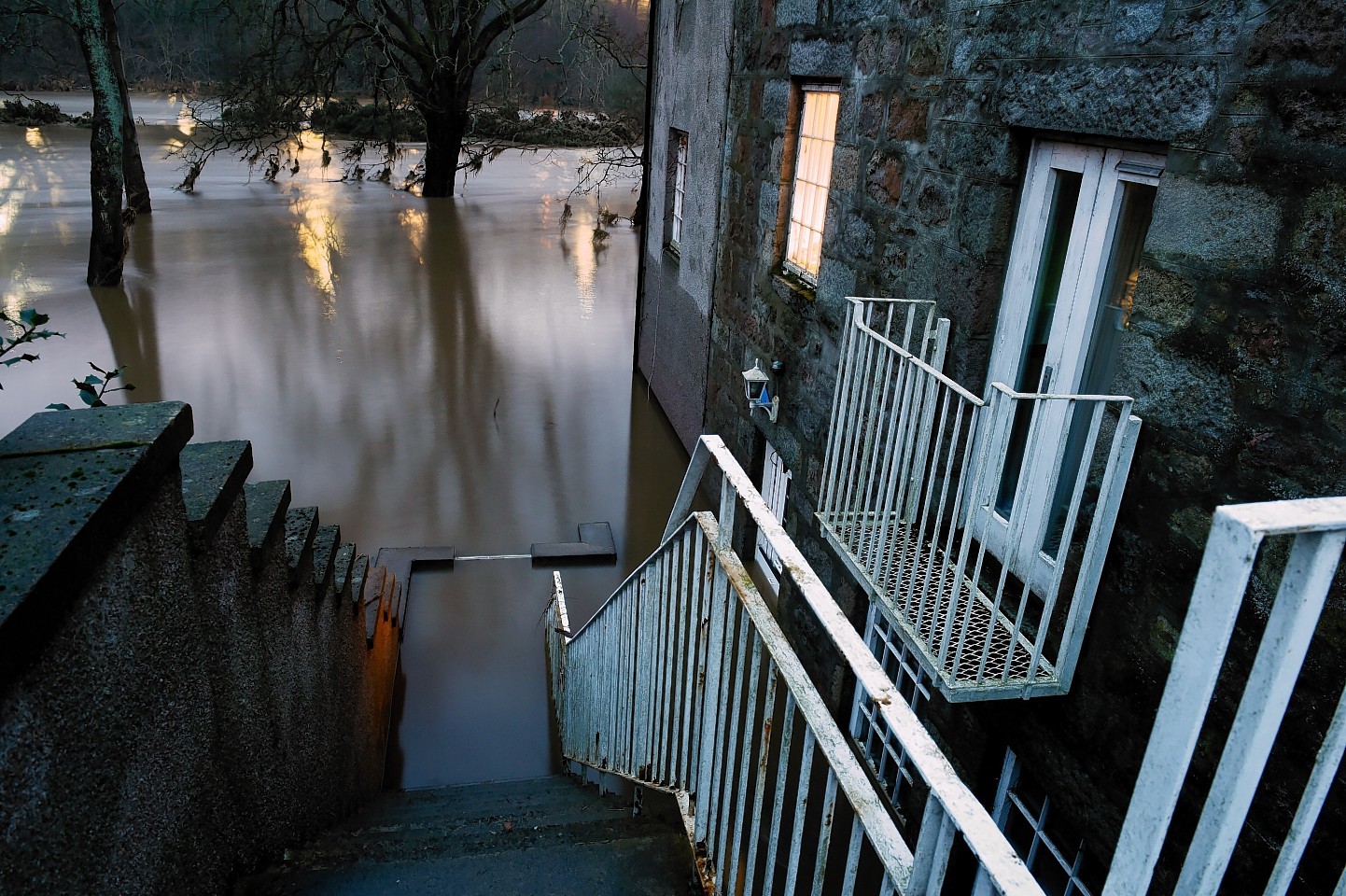 However, the Grandholm Mill lade – which stems from the Don – did not overflow.
Keith Robertson – general manager of AVC Media, which is based in the mill – said it had been "a really close call" for the business, with water coming in through a low window at one point.
He added: "It was really beginning to build up and we were concerned the lade wasn't emptying the way it should. Its level was higher than the River Don.
"Basically the water wasn't going anywhere. We were worried it would back up and go into our building.
"You normally come down here at 7pm-7.30pm and there is nobody about, but it was chaotic.
"Eventually the damage was clear. It did enter the building. But we were lucky it was minimal damage."
The Grandholm area is still under flood alert and work is underway to bring the 86 residents moved from the Grandholm, Persley and Woodside care homes back.
Nearby Seaton Park, which neighbours the Don, was also swamped in flood waters, whilst the construction site for the Third Don Crossing was similarly affected.
Aberdeen City Council moved from a state of emergency response to implementing a recovery plan yesterday.
The Scottish Environment Protection Agency (Sepa) has kept a flood warning on the river along with severe warnings for Kintore and Inverurie.
Elsewhere, 12 residents were rescued from flood waters by firefighters in the Millside area of Culter after the Culter Burn burst its banks overnight from Thursday into Friday.
Kirkhill and Culter schools both remain closed to pupils.
The River Dee also burst its banks at Riverside Drive yesterday as the north-east endured some of the worst roads chaos ever experienced in the region.