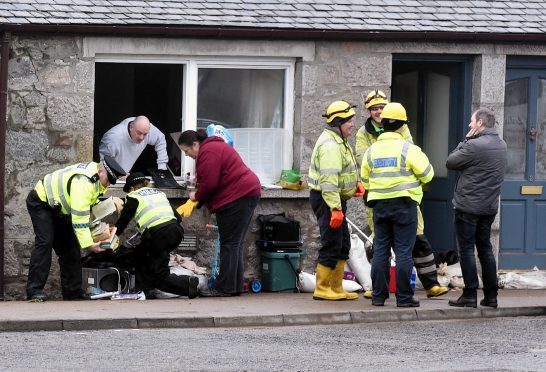 Further flood warnings are in place across the north-east after a week of weather chaos which wrecked local homes and brought roads to a standstill.
A Scottish Environment Protection Agency (Sepa) flood warning is in place on Inverurie, Kintore and the River Don area with the latter set to peak in the afternoon.
The warnings have been issues in response to further rainfall forecast for today, and due to sustained damage to the Don's flood embankments in Inverurie.
The whole of Aberdeen city and shire is still under flood alert.
However Sepa stated the level of flooding would be "much lower" than in recent days.
In Kintore the Castle Hill and Kingsfield Road areas could be affected, whilst the B977 road between the village and Dunecht could have further flooding along with farmland surrounding the route.
Lower areas of Inverurie near the Don are most at risk, along with the B993 Inverurie to Kemnay road.
The River Don reached its highest level in 45 years last week, rising to some 18.37ft, leading to the evacuation of 70 homes on its banks and 86 residents of three care homes in Aberdeen.
In Inverurie, 38 properties were affected.
The River Ythan also burst its banks in Ellon, leading to the evacution of 100 people.
It came just days after the River Dee wreaked havoc along the river's Valley, coming to a head in the village of Ballater where hundreds were forced out of their homes.
The Sepa statement adds: "Rivers in the area are expected to respond to rainfall on Saturday and Sunday. Levels are generally expected to be much lower than those experienced in recent days and during Storm Frank.
"There is a risk of flooding to land, roads and properties in particular from smaller watercourses. Localised surface water flooding is also possible.
"Remain vigilant and remember, it is your responsibility to take actions which help protect yourself and your property.
"Advice and information is also available through Floodline on 0345 9881188. Your Floodline quick dial number for this area is 21100."