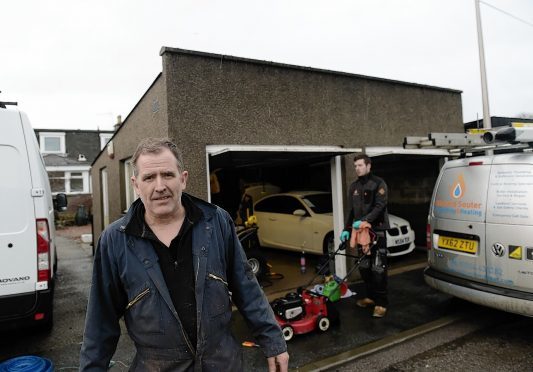 An Aberdeenshire plumber has told of how he successfully fought off the roaring River Don as it threatened to break in his front door.
Port Elphinstone plumber Malcolm Souter managed to keep the raging waters of the river which neighbours his home from caving in his front door and spilling into his home.
Using mere sandbags and towels braced against his front door on Elphinstone Road, he diverted the water around his home – although he was unable to save his garage and its contents, including his car.
He said he had been "lucky" and was out with sons Richard and Mark lending a helping hand to his neighbours yesterday, whilst fixing the machines in his garage which had been flooded.
Mr Souter, 51, added: "The water started coming into the house in the front and I just kept pushing it in, mopping it up, pushing it in and eventually I just pushed them (the towels) in that hard it just seemed to seal up the door.
"Fortunately, I managed to stop it.
"The foundations of the house were full of water. It was like a torrent. The noise, it was unbelievable.
"It all happened in less than an hour. In the past, it has come along the road here, but it just goes away again. Yet this was just extraordinary.
"It just happened so quickly. There was nothing you could do."
He added: "Now everybody is mucking in and getting together and helping each other. A lot of people down here are voluntary, down here in their own time helping.
"Saturday was a bit doom and gloom, so it is a lift and everything is on the up now."
Anna Lichmen said she was concerned about the threat of further floods, having been forced out of the home she shares with husband, Adrian, and children Claudia and Dominika.
Speaking last night, she said: "We worry about tonight and tomorrow morning, so we will see. On Thursday night at 11pm, the power was cut and we took everything which was downstairs up the stairs very quickly.
"At 12pm the water [had surged] up to my kitchen and living room by a few feet."
"People have been very nice the last few days, and people from Asda came and helped us."