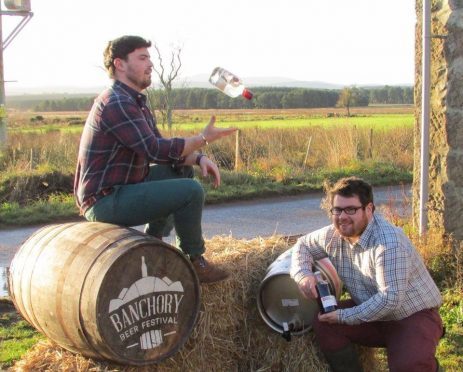 The two Aberdeenshire brothers behind a popular new drinks festival will give a portion of their profits to local flood victims.
Mungo and Guy Finlayson are the duo behind the Banchory Beer Festival and winter event, Beer at the Barn – which takes place from February 12 to 14.
Last night the pair revealed they intend to donate 10% of their ticket sales for the event to Deeside residents hit by the recent devastating floods.
They are expecting to raise thousands of pounds for Hope Floats – the Deeside flood response network.
Mungo, 26, aid: "I know people affected by it, it is a very local thing. It is the least we could try and do. I was in Drumoak during the flooding and I have never seen the water that deep there.
"It seemed it was never going to stop. I went out there and delivered sandbags. The water was coming up to the floors, to their doorsteps. It wasn't the Dee, the drains had overflowed.
"It was knee-deep, then it started snowing. I have never seen anything like it before."
Among the musical entertainment lined up for at Beer at the Barn are Sunshine Social, acoustic musician Blair Chisholm, the Mad Ferret Band and The Funcy Pieces.
Drinks on offer include Aberdeen's Porter's gin and Banchory's Dark Matter rum. This year will also exclusively debut the new Isle of Harris gin.
The event will be held at Banchory's Woodend Barn, and tickets are available by visiting www.eventbrite.co.uk/e/banchory-beer-festival-presents-beer-the-barn-2016-tickets-19031524803