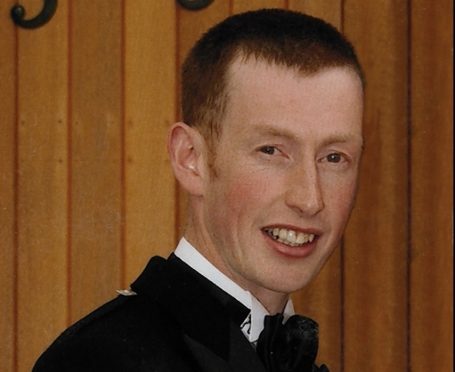 A farmer was dragged into a combine harvester and killed when his father accidentally turned on the machine.
Alan Ironside was working with his dad Andrew at a property in Aberdeenshire when the tragedy happened.
The father-and-son team had been contracted to harvest fields at Auchlinn Farm near Turriff.
On the day of the accident, they stopped working around 7.30pm when the combine became choked with straw.
At a fatal accident inquiry at Banff Sheriff Court yesterday, it emerged Mr Ironside jun left the cab of the vehicle to clear the blockage.
It was then that his dad – who was still in the cab of the combine – accidentally turned it back on.
Thirty-nine-year-old Alan was pulled into the machine and suffered fatal neck and head injuries. He died at the scene.
Sheriff Philip Mann said in court yesterday that the accident was one that was "all too familiar" in the farming industry.
Fiscal Depute Andrew Hanton said that on the day of the accident the harvester had become blocked several times, but Mr Ironside and his dad had managed to deal with the problem.
"These earlier attempts to clear blockages passed without incident," he added.
"There was not an issue in any particular part of the field."
A later inspection of the Claas Lexion 460 harvester established it was in good working order and had no faults.
But Mr Hanton said the accident – which happened around 7.45pm on August 13 – could likely been avoided if safe practice were used.
"It directly contributed to the death of the deceased," Mr Hanton said.
"The deceased exited the cab and attempted to clear the blockage manually. The deceased's father accidentally pressed the button.
"Good practice in the event of a blockage should be a safe stop."
Mr Hanton conceded, however, that "any other farmer" would have followed the same routine.
The harvester's own safety manual states that a rod should be used to clear any blockage and warns against the use of hands or feet.
Sheriff Mann issue a formal finding in writing, and said yesterday he would do this "as quickly as possible".
He also offered the court's condolences to Mr Ironside's widow Allyson and his father.
"The circumstances are particularly poignant for the family and I'm sure it's something that's caused them great distress," he added.
"This is the type of accident that's all too familiar in the agricultural industry. When there's risks involved, these accidents will happen from time to time."
Mr Ironside lived at Cummerton Farm, Fisherie, with his wife and the couple's young daughter Rachel.
Last night, his family declined to comment.
At the time of his death, tributes described the father-of-one as a "great young guy" who "went the extra mile".