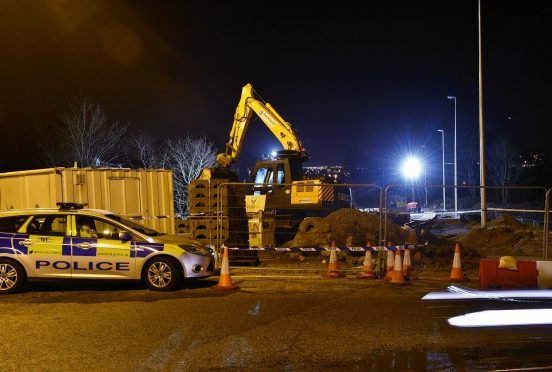 Prosecutors have been sent a report on the death of a workman at the Third Don Crossing in Aberdeen.
Fifty-eight-year-old Ian Walker from Dundee died in an accident at the project site at Danestone north of the river.
Paramedics were called following the incident, but Mr Walker was pronounced dead at the scene.
Police and the Health and Safety Executive (HSE) launched and investigation and construction work was put on hold for four days.
Last night, a spokesman for the Crown Office confirmed it had now received a report on the tragedy.
However, he said further investigations were still being carried out by the police and the HSE.
He said: "The procurator fiscal has received a report in connection with the death of a 58-year-old man at the Third Don Crossing construction site at Fairview Street, Aberdeen, on January 13.
"A joint investigation by Police Scotland and the Health and Safety Executive into the circumstances of the death is ongoing under the direction of the Health and Safety Division of COPFS.
"The family will be kept updated in relation to any significant developments."
Contractor Balfour Beatty said it was working with police and the HSE as investigations continued.
A spokesman for the construction firm said: "Following the tragic fatality on the Third Don Crossing construction project, Balfour Beatty stood down all works on site.
"We are liaising with Police Scotland and the HSE to support their investigations and while these continue it would not be appropriate to comment further."
It also emerged yesterday that the works, which were due to be completed in March, will not be finished until "late spring".
A spokesman for the company said the delay had nothing to do with last week's incident.
Balfour Beatty was awarded the contract for the bridge in June 2014.
The £18million crossing will link the Parkway in Bridge of Don at the Whitestripes Road junction with Tillydrone Avenue and up to St Machar Drive.
Work on the site started in 2014 and was originally scheduled to finish in December.