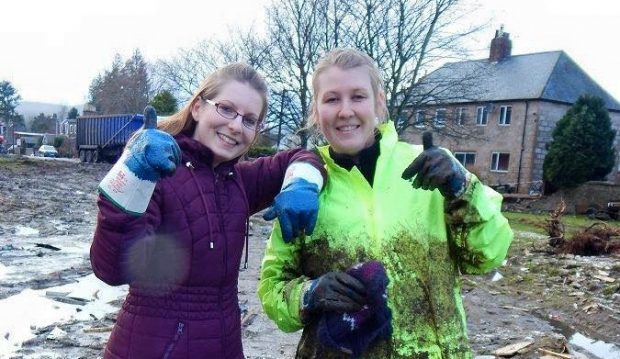 A humanitarian group has been praised for racing to help residents of a Deeside village clean up after this month's floods.
People have come from far and wide in the wake of Storm Frank to help the hundreds of people who were forced from their homes when the River Dee burst its banks.
But five volunteers travelled a bit further than the rest – swapping Tel Aviv for Ballater.
The group was part of IsraAid, which travels the world offering lifesaving disaster relief, and arrived in the village to help with the massive clear-up after Debby Taylor, from Alford, got in touch.
Nicky Ryder, a Ballater volunteer, praised them for their "fantastic" efforts – not just with the hard labour but also in lifting peoples' mood.
She said: "I met them and they were fantastic, they barely stopped for a break the whole time they were here.
"It was unbelievable the amount of work they got done in the time they were here – they made such a huge difference and really lifted peoples' spirits.
"I can't believe how many people have come from so far away to help us, it's definitely down to social media – word of mouth has just spread so rapidly."
One local resident, who was helped by the group, said: "The guys were like a powerhouse of positivity, I was so impressed by their practicality and dedication."
Ballater was one of the worst areas hit by Storm Frank earlier this month, with the River Dee bursting its banks and causing devastation to homes and businesses.
Homes were gutted and caravans were washed away, with battered cars even coming to a rest on top of each other.
Ms Ryder added: "IsraAid and other volunteers have made a massive contribution – the council said they spent over £70,000 to help clear roads towards the caravan park – and already they have asked for more funding – so anyone who has been able to come along as a volunteer has been invaluable."
One IsraAid volunteer said: "We were happy to help with whatever they wanted us to do and are glad that we came here, it's nice to make people smile again."