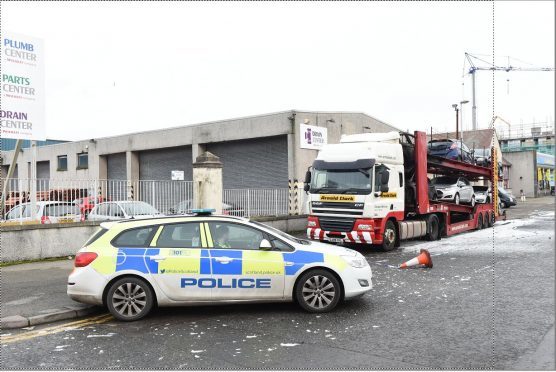 A lorry driver had a lucky escape after his car transporter was set on fire while he was asleep inside.
The Arnold Clark car transporter was parked in Aberdeen when the blaze broke out in the early hours of yesterday, causing at least £100,000 worth of damage.
Police and fire crews were alerted to the incident, which they are treating as suspicious, in the city's Canal Road at around 2.55am yesterday.
Two crews were initially called to the scene with a third requested when firefighters assessed the scale of the inferno.
A total of 13 firefighters wearing breathing apparatus tackled the blaze with foam jets and reel hoses for around 20 minutes until returning to base.
A police spokeswoman last night said they were following "a number of lines of inquiry" and were looking to trace a young man seen in the area at the time.
She added that the damage was estimated to be in the "low six figures" region.
The transport had travelled up from Glasgow on Wednesday, and was carrying cars including a Ford Fiesta ST and a Volkswagen Tiguan.
The Fiesta and a Peugeot 206 were left as burned out shells, while another two Fiestas were badly damaged.
A spokeswoman from Arnold Clark said: "We can confirm that there was a fire in the early hours of yesterday morning on one of our transporters.
"The driver was asleep in his cab as the vehicle was parked up overnight and fortunately he was not injured.
"We are currently helping the police with their investigation and I would like to thank the fire services for their quick response."
Detective Inspector Lee Jardine appealed for witnesses last night.
He said: "We are carrying out inquiries along with the fire service to establish the cause of the blaze and are appealing for anyone who saw anything unusual or suspicious in the area at the time to get in touch with us. Investigations are at an early stage however we are treating this incident as suspicious.
"A number of lines of inquiry are being pursued including extensive CCTV work. A male aged 25-35 years old, approximately 6ft in height, slim build, dressed in dark clothing including a dark hat and hooded jacket was seen in the area at the time."
Anyone with information should call 101 or Crimestoppers on 0800 555 111.