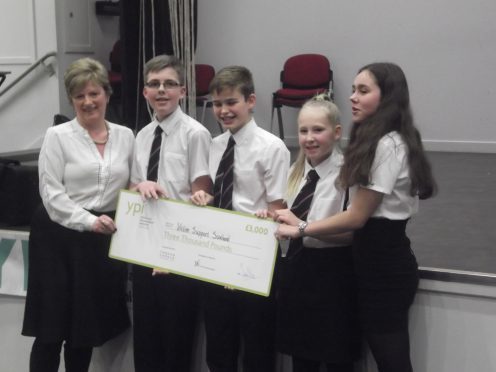 A team of four Aberdeenshire school pupils have netted thousands of pounds for victims of crime in their local area after wowing a panel of judges.
The Portlethen Academy pupils battled it out to win £3,000 for Victim Support Scotland as part of the Youth and Philanthropy Initiative (YPI) Scotland.
Second year pupils Keir McKechnie, Taylor Lumsden, Calum Graham and Alyssa Hay came out on top with a final presentation highlighting the impact crime has had on people in North Kincardine.
The money raised will be used to buy equipment such as personal and house safety alarms for those who have suffered at the hands of criminals.
Religious, moral and philosophical studies teacher at Portlethen Academy, Jess Copner said: "YPI is a valuable opportunity for our young people to become engaged in social issues and to take their ideas forward.
"Alyssa, Keir, Calum and Taylor are testament to the hard work and dedication of pupils in S2 who have worked on the project."
Victim Support Scotland spokeswoman, Alison Stewart, met with the team as they developed the project.
She said: "They really did our charity proud. I was so proud of the fantastic team that represented us. They competed in the final against another five very worthwhile local charities.
"The six presentations were all very good. Our team did an excellent presentation of the work done by Victim Support Scotland and acted out a real scenario for the audience.
"The team did all this without any notes and it was so obvious that they put so much time and work into this project."
The YPI – sponsored by the Wood Foundation – has been running at Portlethen Academy for six years.
Other school pupils chose such charities as Penumbra, Riding for the Disabled, Choices Aberdeen, Children First and the Friends of Roxburghe House.