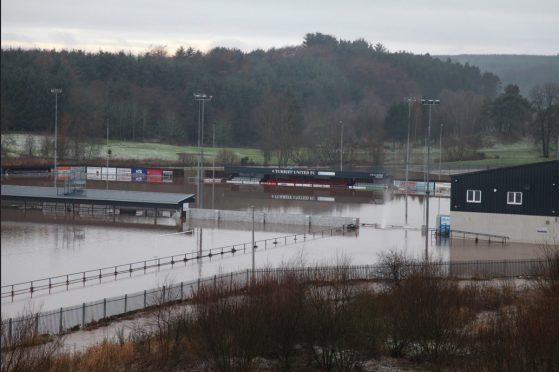 A north-east community has raised more than £1,400 in just days to support its local Highland League football club recover from the recent floods.
Turriff United's facilities at The Haughs were wrecked by dirty floodwaters when the nearby River Deveron burst its banks earlier this month.
The club appealed for donations to help repair collapsed boundary walls and repair machinary damaged in the bad weather.
Now chairman George Manson has said he is astounded by the generosity of the local community, which has raised £1,400 in just over four days.
Mr Manson said: "It's been tremendous because we only set the thing up on Friday night. It shows the community has got behind us and the amount of volunteers we had at the tidy up operation itself was excellent.
"Community spirit is showing through – it's brought us closer together and it's also a motivation for the team."
The floodwaters engulfed The Haughs pitch and spilled into the new changing rooms.
Although there has been no permanent damage to the structure of the changing rooms, football strips were damaged and a gas meter was exposed when a boundary wall collapsed.
Mr Manson added: "When we built our new changing rooms we thought we'd built them higher than the water had ever been.
"I'm afraid this beat us by only three or four inches, but enough to cause a mess. That's all it really takes."
One of the biggest donors to the cause was Turriff Dental Care.
Practice owner Nedahl Swessi and his team handed over £300 to the club as a mark of community unity.
Last night Mr Swessi said: "I saw what was happening on social media and could see people were trying their best.
"At times like this you want to chip in and help, especially with the local football club.
"This could happen to anyone – it could happen to us and we would need the help of others. The practice relies on the community so we wanted to give something back."
Turriff United are still collecting donations, visit
crowdfunding.justgiving.com/turriff-utd