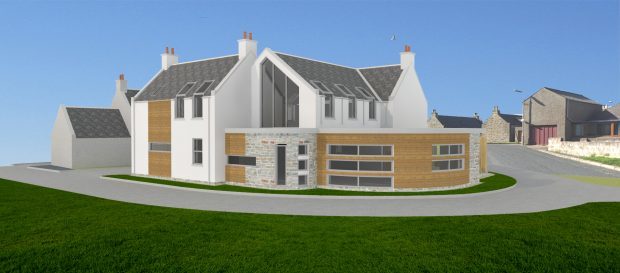 A family who want to convert a north-east eyesore into their dream home were finally given the go-ahead yesterday.
New Deer firm Baxter Design lodged plans to convert an abandoned house in Cairnbulg's Shore Street into a modern home for a family of five.
But the firm was grilled by planners who believed the design would not fit in with the village's conservation area.
Following a site visit, the Banff and Buchan area committee met in Fraserburgh yesterday to discuss the case, where councillors approved the scheme – and even called for the authority to "move with the times".
Local councillor Ian Tait said: "People are not going to be content living in 'But an Bens'.
"It just doesn't make sense."
Troup councillor Hamish Partridge added it was important villages "move forward".
He said: "We need families or the next thing we'll have is school closures."
The move immediately prompted a vote on whether the conservation status of the village needed to be reviewed by councillors.
Councillors Mark Findlater and Michael Roy backed authority planners, but were defeated five votes to three.
"One of the main reasons for a conservation area is to stop buildings getting knocked down," Mr Findlater said.
"We've lost a lot of our heritage."
Mr Roy added that conservation was a "thorny" subject.
He said: "I was surprised at the variety and amount of non-traditional building that has taken place there (Cairnbulg)."
Craig Fyvie, a planner with Baxter Design, said his client was originally from the area and wanted to raise their family in Cairnbulg.
"My client has two children currently and another on the way," he said.
"My client was born in the area and wants to move back to raise their children."
Conservation status has been a hot topic across the north-east in recent weeks.
Following an impassioned plea earlier this month in neighbouring Peterhead, the Port Errol community convinced councillors to keep its village's conservation status.
The status of Buchanhaven is currently being reviewed.