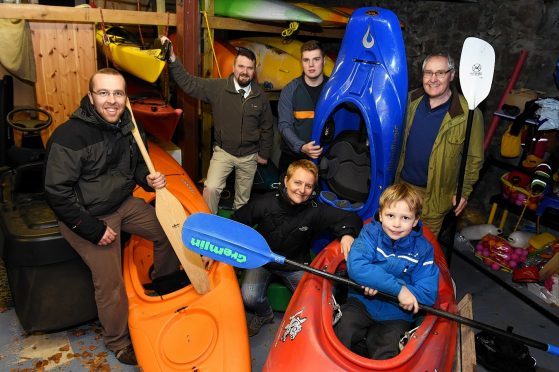 A popular Aberdeenshire canoe club is celebrating after plans for its new boathouse on the banks of the River Dee were given the go-ahead.
Members of the Aboyne Canoe Club have convinced councillors to grant consent for their new base – despite Aberdeenshire Council planners recommending it be refused.
The boathouse will be situated off Aboyne's Charleston Road near a stretch of the river ideally suited for the club, and will be its clubhouse and store.
The council's environment team said it could not back the plans as they would require the removal of several protected trees on the riverbank.
However councillors granted permission to the plans after hearing many of the trees at the location were already in decay, with canoe club chairman Chris Redmond offering to replant "hundreds" of trees in the local area to make up for the loss.
Mr Redmond, said the building would act as a "focal point for the members".
He added: "It is an inclusive club and welcoming to all. We promote access to the outdoors and a healthy lifestyle.
"It will make it more welcoming to the community. I'd like to make the case that the community benefits of the club outweigh the loss of the trees.
"If there was a community piece of land we could plant maybe 100 trees to make up for it."
Club member Mark Mitchell added: "It is a club that has old grey-haired people like me as well as toddlers in boats.
"The area has some unique pools of water to start paddling in. I think it would be such a benefit to have such a club in such a location."
Aboyne councillor Peter Argyle backed the plans, and said: "It is a good club and engaging a lot of people. There is scope for compensatory planting in the immediate neighbourhood.
"The issue of traffic is an interesting one, I have to say I think it would be an improvement to have the parking here rather than down by the Boat Inn."