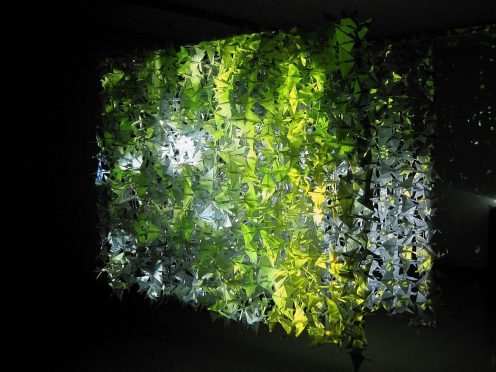 Colourful "stepping stones" will delight the crowds during an extravagant light show in Aberdeen next month.
American Jen Lewin will be bringing her interactive exhibition of colour changing pebbles, called The Pool, to Spectra 2016 in Union Terrace Gardens.
The Pool – which has been admired by thousands since it was made in 2012 – comprises of 40,000 LED lights and computerised pads that change colours as visitors hop, skip and jump on them.
It will be the first time the installation has come to Scotland, after travelling to more than 30 major international festivals including iLight Marina Bar in Singapore and the Electric Daisy Carnivals in New York and Las Vegas.
Spectra will return to the Granite City for the third year in a row, with more than 20 other installations to thrill visitors.
There will be a fire garden of glowing and flaming metal sculptures, a light sculpture made by 250 primary school pupils and hands on experiments from Marischal College.
Ms Lewin said: "I have travelled with The Pool over the world and I am thrilled to see how Aberdeen will engage with interactive public art at Spectra 2016."
Gary Craig, chief executive of Aberdeen Inspired, who fund the event, said: "We are delighted to be supporting The Pool, which is a truly eye-catching and enchanting art installation.
"The artwork has become a global success and it is fantastic to welcome Jen Lewin to Aberdeen."
Deputy council leader Marie Boulton said: "Spectra 2016 will be an exciting family event which will bring light in the depths of winter.
"Now in its third year, the festival highlights Aberdeen as an area of light and creativity and as a city of design and technology with a strong cultural heritage.
"The festival also brings together the diversity of the area's cultural offer and to encourage people to come back for more."
Spectra will run from Thursday, February 11, until Sunday, February 14.