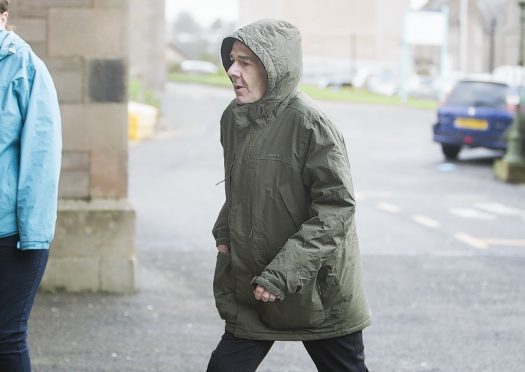 A man who was thrown off a bus then stole a mobility scooter before leading cops on a drunken low-speed chase as he weaved around the road in a "scene like something out of Little Britain" today avoided jail.
Boozed up Andrew McConnachie tried to out outrun officers on a five miles per hour journey back to Aberdeen from Inverkeilor, near Arbroath, Angus, which would have taken him hours to complete.
He had been dumped off of a coach for being sick on the bus before stealing the scooter and driving it on the road while twice the drink limit.
Fiscal depute John Adams said the bizarre chase began when the accused was thrown off the bus around 9.30pm.
He said: "Shortly after ejecting the accused from his bus, the driver was coming back in the same direction when he saw the accused driving a mobility scooter which the accused did not have with him on the bus.
"The bus driver was concerned because he was all over the road."
Police were called and they stopped McConnachie, who initially said the scooter was his, but that lie was quickly exposed when passers-by identified the scooter as belonging to a local man and its ownership was checked out.
The fiscal added: "When the two passers-by intervened, the accused then explained that he saw the scooter and assumed it was for hire."
McConnachie, 47, of Summer Street, Aberdeen admitted stealing the scooter from Main Road, Inverkeilor and driving with excess alcohol, 44 microgrammes against a legal limit of 22.  Defence solicitor Nick Markowski said the scene of McConnachie being pursued by a police vehicle with its blue lights flashing, while weaving around the road at just a few miles per hour would have been like a sketch from cult comedy show Little Britain.
"He is on a range of medications and medical advice not to drink was not advice that he followed yesterday," said Mr Markowski.
"The scooter was just beside the bus stop, he got on it and luckily for him he didn't go onto the main A92, which would have been extremely dangerous.
"He has asked me to apologise to the owner of the scooter and is thankful the man got it back without any disruption."
He added: "It is perhaps fortunate that when he came out of Inverkeilor he turned right on to a back road and not left on to the main coastal route.
"His connection with the Angus area is simply transient.
"He has a record but it is mostly in Aberdeen."
Sheriff Pino di Emidio imposed a community payback order with 70 hours' unpaid work and banned McConnachie from driving for three years.