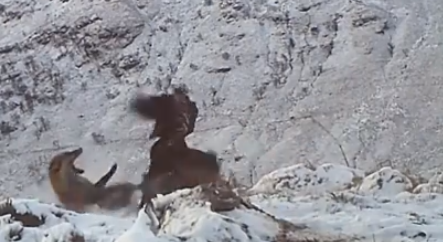 Footage has emerged from a hidden camera in the Scottish Highlands of a battle between two of the UK's top predators over a scrap of meat.
In the video, a fox attempts to rob an eagle of its supper, what seems to be a rabbit's carcass against the backdrop of the breathtaking, snowy Highlands.
Despite the sly fox's sneaky efforts to nick the raptor's tea, the proud bird fearlessly scares off the thief by brandishing its enormous talons.
Cowering, the would-be bunny burglar skulks off hungry back into the moors.
The footage was uploaded to the BBC Springwatch Facebook page.