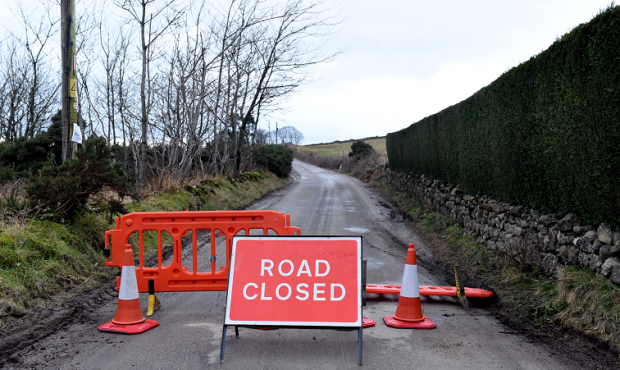 A busy Aberdeen road has been closed for repairs after it was severely damaged by construction vehicles involved in the Aberdeen Western Peripheral Route project.
Contlaw Road in Milltimber, which lies between the access route to the AWPR and Malcolm Road, has been shut by Transport Scotland after constant use by HGVs, transporting materials and equipment for the bypass, rendered it unsuitable for motorists.
It is not clear how long it will take for the road – which is used by commuters in the area – to be repaired and opened to the public once again.
Lower Deeside councillor, Marie Boulton, said that the closure will cause traffic chaos for motorists in the area.
Mrs Boulton added: "I reported it because I've had a lot of residents contact me about some particularly bad parts of Contlaw Road.
"It's an ongoing problem we've got going on with the AWPR traffic. They're using roads that are not built for the weight of the traffic, and they're crushing the edges of the roads, leading to huge erosion on large sections.
"Our road inspectors chose to close it because it was so badly damaged. It's a vital route for the area, and it's imperative that we get it fixed as quickly as possible.
"I've got huge concerns about who will be picking up the tab for all these road problems.
It's not just the city that's dealing with these damaged roads because of the AWPR, it's Aberdeenshire council too.
"There are so many different arms to the AWPR, it's hard to get somebody to accept responsibility for the damage. But our aim is to get the road back up and running as soon as possible."
A spokesman for Transport Scotland, which is overseeing the AWPR project, said: "The AWPR/Balmedie to Tipperty contractor agrees the routes for its heavy goods vehicles in advance with the relevant local roads authority.
"We are aware that some concerns have been expressed about the condition of Contlaw Road and earlier this week, following discussions with Aberdeen City council, the contractor agreed to re-route HGVs away from the area."