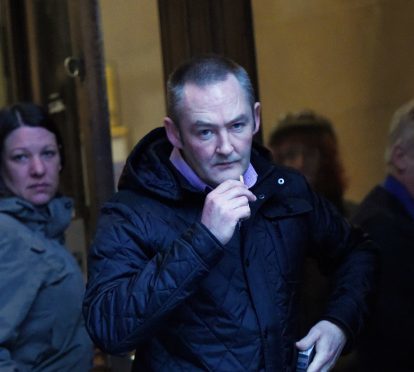 A motorist has been jailed for fleeing the scene of a high-speed crash which left his passenger hospitalised with a broken back and a punctured lung.
Sean Craig was travelling along unclassified roads in Aberdeenshire at "excessive speeds" when he lost control of his friend's black Subaru Impreza and crashed it into a grass embankment.
Both Craig and his passenger Rona Tennant walked free from the wreckage, but a short time later Mrs Tennant started to notice she was in a great deal of pain.
When an ambulance was called to take her to hospital, Craig fled the scene and went to stay with his friend for the night– without reporting the accident.
Yesterday the 43-year-old appeared at Aberdeen Sheriff Court to be sentenced, having previously admitted causing her serious injuries by driving dangerously and leaving the scene of an accident.
Fiscal depute Kelly Mitchell said Craig, of 9 Tyrie Garden, Insch, had been out with friends before the accident occurred at around 3am on August 23, 2014.
She said he had been at a gathering in Insch when he decided to take his friend's car and drive to his house to pick up some alcohol.
Miss Mitchell said Mrs Tennant decided to go with him, but on their way back he lost control of the car and crashed into the embankment.
Miss Mitchell said that the accident happened on an unclassified road just off the B992 and only a short distance away from the address they were due to be returning to.
She said once they made it back to the house Mrs Tennant went to lie down, however she soon realised she was in a lot of pain and ambulance was called.
The court heard that when Mr Craig found out the emergency services were coming he left his injured friend and went to stay at another address close by.
He later turned himself into the police.
The court heard Mrs Tennant was left with two broken vertebrae, two broken fingers and a punctured lung as result of the smash.
Representing Craig yesterday, solicitor Keidra Morrison said her client's world had fallen apart since the crash. She said his marriage started to break down following the incident but that he and his wife were now trying to work through it.
She said the couple no linger speak to Mrs Tennant or her husband, who used to be good friends of theirs.
Sentencing Craig, Sheriff Graham Buchanan said there was no alternative than to send him to jail.
He said: "You left the scene after you drove dangerously down a country road at excessive speeds causing you to crash into an embankment and leaving a lady seriously injured.
"There really is no alternative to custody."
Craig was jailed for 16 months and disqualified from driving for six years.