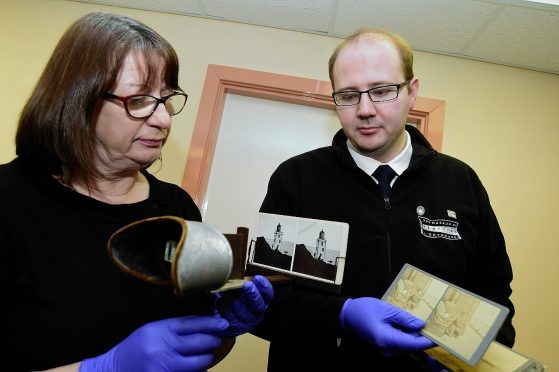 A north-east museum has made a startling discovery of over 500 images, thought to be lost from their records, by browsing Ebay.
Michael Strachan, collections manager at the Museum of Scottish Lighthouses, made the find while looking for items to add to the Fraserburgh attraction's displays.
The stereoscopic slides, which appear as 3D images when viewed through special glasses, originally formed part of the Northern Lighthouse Board's own archives before they were sold in the late 1990s.
They were originally shot by Dick Peddle, secretary of the Northern Lighthouse Board, between 1901 and 1929.
Mr Strachan, who branded his discovery as "lucky", now hopes to have the images digitally rendered and preserved for future generations.
He said: "The story of this collection is all the more remarkable because it seems the images were loaned to the museum in 1996.
"Back in November, I noticed eight lighthouse stereoscopic slides on Ebay. Upon further inspection, I noticed it was claimed they had been taken by a Mr Peddle.
"I was aware of the Peddle collection, and so realising their importance, I bid for the eight – and luckily my bid won.
"Afterwards, the seller was contacted asking if he had any more cards, and, to my astonishment, he told me there were about 200 more amongst a larger non-lighthouse collection. By the time he finished sorting through them, there were 550."
With the assistance of the Northern Lighthouse Board, the museum has now been able to purchase them all.
Mr Strachan added: "The collection of images give a unique insight into the commissioner's inspection tours of Scotland's lighthouses in the first decade of the 20th century.
"They provide an excellent record of life on-board the lighthouse tenders, including the work undertaken by the crew – and also views of Scotland's more remote lighthouses such as the Flannans, Dubh Artach, and Skerryvore."
The images will now become part of a nationally recognised collection which highlights landings on Scottish lighthouses.