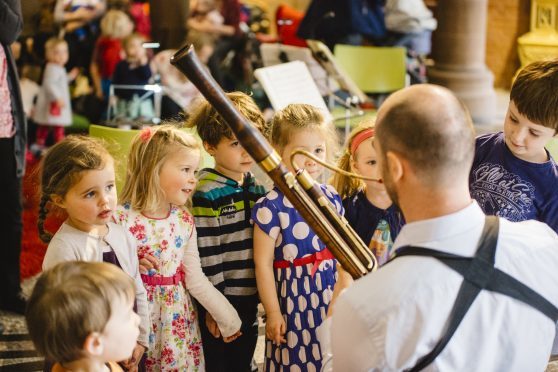 Toddlers are being invited along to the Scottish Chamber Orchestra's series of tours in the north-east.
Since its pilot run in 2011, the Big Ears, Little Ears scheme has enjoyed massive success across Scotland by performing to sell-out audiences.
This year, the series is back, touring Aberdeenshire with a trio of the Scottish Chamber Orchestra's wind players.
The group will perform 45-minute concerts in Peterhead, Whitehills and Fraserburgh for babies and toddlers with their parents and carers.
The events will feature well-known classics and fun arrangement of familiar songs, providing a chance for children to enjoy high-quality, live music from world-class musicians.
Last night, project leader Anna Hainsworth said: "Big Ears, Little Ears gets such a positive reaction from everyone who comes to see the concerts and we wanted to take it to a new audience that might not have heard the SCO.
"It is very important to everyone involved in the project that the next generation enjoy the wonders of live music as much as we do. There's no better time to start that process, so come along and enjoy."
The SCO toured the Highlands with the Big Ears, Little Ears events last year, performing to concert-goers and families who wouldn't normally attend classical music events.
A participant from last year's tour branded the varied programme as "just the right length for the audience".
They added that it was "fantastic to hear the music in such an informal an intimate setting, and a great opportunity to introduce kids to musical performance".
The first of the concerts in the north-east takes place on February 18 at 10.30am at the Apex Church in Peterhead.