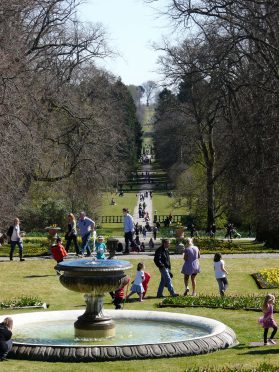 One of the busiest Easter events in the north-east is facing changes this year because the size of the festival is causing strains on the surrounding area.
The Haddo Easter Egg Hunt, organised by the Rotary Club of Oldmeldrum, has taken place at Haddo House and Country Park for over 15 years and attracts several thousand visitors to the site every Easter Sunday.
However, the event is growing beyond the capacity of the park and a decision has been made to restrict the number of cars that will be allowed into the site next month.
In a bid to alleviate the problem, all vehicles entering Haddo House on Sunday, March 27 will need to pre-order a car park pass and display it on their windscreen.
The passes will be free and can be found online at visithaddo.com from 11am on Saturday, February 27.
Alternatively they can be collected in person from the Haddo House and Country Park Visitor Centre from Saturday 27 until Monday, February 29 between 1pm and 4pm.
Visitor officer, Diana Spencer, said: "It is amazing how popular the Easter Egg Hunt has become in the past few years.
"But it's putting a huge strain on our car parks and fields and on the access to Haddo itself.
"By limiting the number of cars allowed in [to the venue], we'll hopefully get all our visitors parked much more quickly and safely and it will be a better day out for everyone.
"If you live locally and can walk or cycle in, then there aren't any restrictions and you can come in without having to worry about a pass."
For more information on the event visitors can contact Haddo on 01651 851041, email haddo@visithaddo.com or stop by the visitor centre for more information.