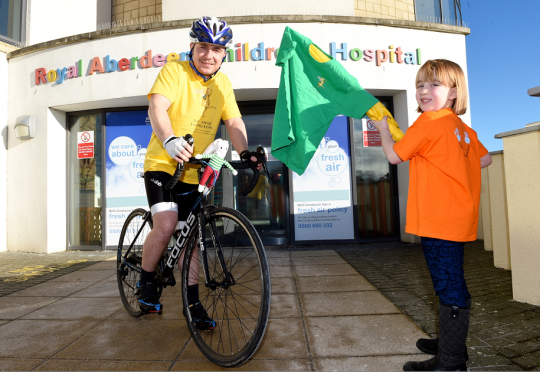 An Aberdeen photographer has put his latest fundraising efforts into top gear by attempting to cycle 10,000km for the ARCHIE Foundation.
Father-of-two Nick Frost, 41, will be donning his lycra and biking at least 16 miles every day during the 6,213-mile odyssey to raise cash for the official charity of the Royal Aberdeen Children's Hospital.
A keen cyclist, Mr Frost has been using his love of the sport to support various Aberdeen charities for the last three years.
And, in this instance, the Dyce snapper chose ARCHIE for the very special support the charity offers his 6-year-old daughter Eilidh.
Mr Frost said: "My daughter has a mild genetic condition so we are in hospital several times a year.
"I know she loves the rocking horses at the children's hospital, and I know they wouldn't be there without funding from the ARCHIE Foundation.
"I do a lot of fundraising for local charities, but the foundation seemed the logical choice and, as a father of two little girls, it's great to do something for kids."
Whether in cycling to and from work every day, carrying out sponsored rides of cycling machines in local supermarkets or arranging a number of organised trips around the country, Mr Frost said he will do anything he can to raise as much cash as possible.
Mr Frost said: "I started cycling seriously about three years ago when I joined my friend from London to Paris, it really kick-started my love for the sport and I can't get enough of it.
"I have got races, sportives, and events planned in the Borders, up in Inverness, along Deeside, and loads of other beautiful places around the country.
"I am going to cycle every day until I've done the full 10,000km. I am going to try and average 27km a day, so it will probably be the end of November by the time I get finished.
"It would be lovely to raise a pound for every kilometre, but I'm going to be realistic and target at least £6,000 for the charity. Any amount of cash I can raise for ARCHIE will make a world of difference for all the kids at the hospital."