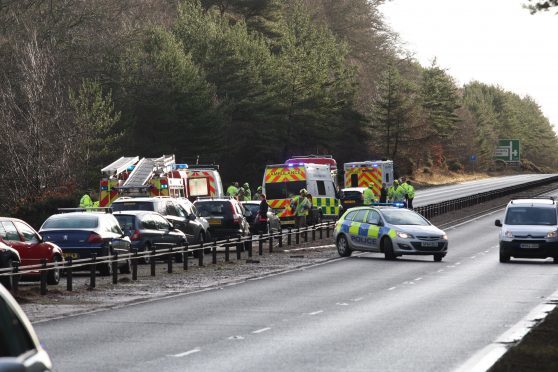 A hard-hitting road safety show, which has helped educate generations of young people across Grampian, is in jeopardy unless it can attract new sponsors.
The "Safe Drive Stay Alive" scheme has been watched by senior school pupils in the north-east of Scotland for the last eleven years.
The visceral stage show features real-life testimony from the emergency services who regularly deal with road collisions and from members of the public, whose lives have been affected by road collisions in an extreme and profound way.
However, following the withdrawal of Petrofac as sponsors in 2015 after nine years and notice from ExxonMobil that they are no longer in a position to assist, the campaign is looking for other businesses or individuals to help them continue the work.
The initiative is still being sponsored by Digby Brown Solicitors, but their contribution is insufficient to cover the whole cost of the event.
Chairman of Aberdeenshire community safety partnership, Douglas Milne, said: "It's really hard to state the impact this show has on those who see it.
"Even if we've only saved the life of one driver, passenger or pedestrian over the years, I know it's been worth all the effort and emotion which goes into this show.
"So many people give their time, expertise and experience, sometimes traumatic, to make this show as effective as it is, but we still need to cover a number of costs to keep it running.
"We think there is a community-minded business or individual in the local area who cares enough about the issues this show deals with to give us some support in a time of financial austerity for many.
"Petrofac and Exxonmobil sponsored the event for many years, donating tens of thousands of pounds, making a huge impact on the local community and we will be forever grateful."
Digby Brown partner, Lisa Gregory, said: "Driving safety is a big concern for many communities in Scotland and the live production is a unique way of engaging young people in such an important issue – we're proud to be part of it."
For more information about sponsoring Safe Drive Stay Alive or to have a conversation about how you could contribute, email: sdsa@aberdeenshire.gov.uk