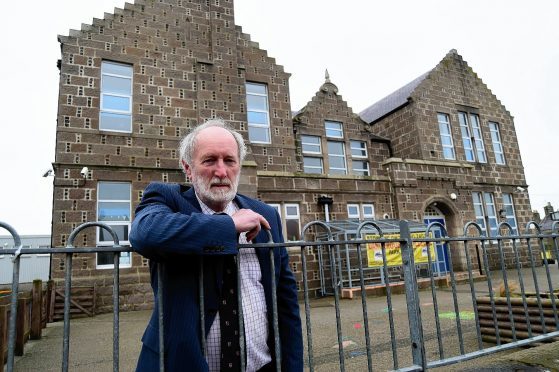 A councillor has called for two historic north-east primaries to be shut to make way for a new multimillion-pound school.
Charles Buchan believes Fraserburgh's Victorian-era St Andrews and North buildings are now well past their sell-by dates.
And he has launched a campaign to give the port the "new school is deserves".
The former physics teacher said he was "delighted" the local authority was considering rezoning catchment areas in the town – but that more radical action was needed.
Councillor Buchan said last night: "Rezoning is not enough. Some of our schools are in bad condition.
"They do not afford the conditions in which up-to-date teaching and learning can take place.
"For example, they may be split between two sites, have no playing fields or space for outdoor learning, or are difficult to adapt for pupils with special needs."
The Fraserburgh and District councillor, who is vice-chairman of the local authority's education committee, said some local people would be sad to see "well-loved buildings" replaced.
But he added that "we must look to our children's futures".
Mr Buchan said: "If the people of Fraserburgh wish a new replacement school, I shall do my utmost to ensure the capital for the build is found.
"Other towns in need have got new schools, and so should Fraserburgh."
If Mr Buchan's proposals prove popular with parents and local residents, work will start to identify an estimated £10million of funding and a site for the replacement school.
Yesterday the idea was broadly welcomed by parents.
Linda-Marie Buchan, who was collecting her child from St Andrews School, said she would support Mr Buchan's plan.
The 27-year-old added: "It's been the same since I was here. The buildings are awfully outdated."
One 37-year-old father echoed those comments.
He said: "I've been here all my life and there's not been a new school since. I'm definitely supportive of the idea."
Aberdeenshire Council's school roll forecasts for the area show that St Andrews Primary will be over its 362 working capacity in the next academic year, and the number of pupils is expected to rise.
Nevertheless, not all parents are eager for pupils to move.
One mother said she liked the fact St Andrews had such a large playground.
She said: "I think it's good the way it is. My kid's just started but the teachers are excellent. I'm happy – the money could be better spent on other things."
There is less pressure on spaces at Fraserburgh North School where the roll is not estimated to exceed the 198-pupil capacity in the next four years.