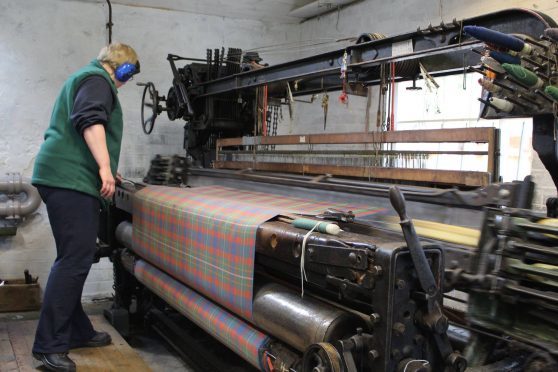 A north-east heritage group has unveiled a new tartan inspired by the colours of the local community.
The Buchanhaven Heritage plaid is part of the society's ongoing effort to strengthen and preserve the identity of the fishing village.
Once a separate settlement, Buchanhaven has now been absorbed into Peterhead, but the neighbourhood has maintained its independence.
The design for the new tartan was finalised after nearly 12 months of consideration and discussions with residents and professionals in the industry.
In the end, five colours were chosen – red for local granite, blue for the sea, green and gold from Buchanhaven's school tie, and silver to represent the herring industry which was once vital to the village.
The material has now been through the loom at Knockando Mill at Aberlour and will be officially unveiled at an event in the heritage centre next month.
Two rolls of tartan have already been produced – a heavyweight cloth which will be used for kilts and other traditional Scottish dress, and a lightweight material for the curtains and soft furnishings at the centre.
Last night, society chairman Alex Geddes said: "We identified the five key colours people linked to the area. We then staged an event asking people to choose which were most popular and then four designs were made up.
"One year on and the tartan is up and running. Anyone can purchase the tartan and have a kilt made up by a kilt maker."
The material will be shown to the public at the Buchanhaven Heritage Centre reopening on March 5.
The event will mark the completion of the first phase of the centre's refurbishment.
Visitors will also be treated to the first public performance of the area's new official bagpipe tune, Ugie Braes.
The song was composed by famous local piper James "Curly" Allan and lay forgotten in an attic until it was unearthed by grandson Charles McKenzie and donated to the society.