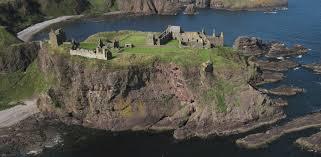 A north-east landmark will be used to promote the spirit of Scotland as part of a new global marketing campaign.
Images of Dunnottar Castle will be displayed on the London Underground and in media packs as part of a new effort to boost tourism to the country.
The effort was launched by Visit Scotland with First Minister Nicola Sturgeon earlier this month.
Its regional director Jim Clarkson said:
"Tourism in Scotland continues to go from strength to strength against a difficult economic backdrop and uncertainty in travel.
"In the last 12 months there has been a 7% increase in visitors and an 8% increase in spend, but we cannot and must not be complacent.
"After nearly a year in the making, we are delighted to launch the Spirit of Scotland campaign.
"The new advertising visuals are breath-taking and I'm sure will inspire many to make the journey to Scotland, but this is about so much more than stunning imagery.
"It's about harnessing a nation behind tourism."