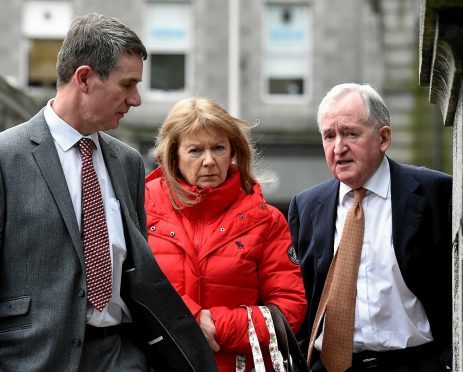 A former nurse at NHS Grampian is suing her old employer after claiming she was forced to quit because of repeated clashes with surgeons.
Anne Croft, who worked at Aberdeen Royal Infirmary and had been employed in the profession for almost 40 years, is currently in the midst of an employment tribunal against the regional health board.
She said she had to leave her post after her repeated complaints regarding cleanliness and timeliness in the operating theatre resulted in her being bullied out of her job by the hospital's surgeons.
The former nurse – who is suing the health board for loss of earnings – had previously claimed she had discovered surgical trays with residual blood, cartilage and bone left on them in theatres.
But Ms Croft claimed her concerns led to her being a target for bullying by surgeons, whom she claims wanted her gone from the hospital.
Yesterday, the tribunal heard evidence from two witnesses from NHS Grampian, Dr Eleanor Binnie-Mcleod, operating theatre manager, and Pragnesh Bhatti, a consultant neurosurgeon.
The tribunal's chairman, James Hendry, heard from Dr Binnie-McLeod that Ms Croft was the subject of a number of letters of complaint written by staff at the hospital.
She told the tribunal she had seen letters written by staff – including surgeons – raising concerns over Ms Croft's behaviour in the operating theatre.
Mr Hendry heard that Ms Croft had allegedly been seen taking fastidious notes of surgeons' activities, and had been highly concerned with cleanliness in the theatre, which staff said resulted in surgery delays.
When Dr Binnie-McLeod was asked by Frank LeFevre of Quantum Claims – who is representing Ms Croft – whether or not she believed Ms Croft had been bullied, she replied: "To be perfectly truthful, there was a lot of pressure from the bosses."
When the tribunal heard from Mr Bhatti – who previously worked with Ms Croft – the brain surgeon described their working relationship as "happy and positive", but highlighted a number of issues that had appeared in the letters.
The tribunal continues today.