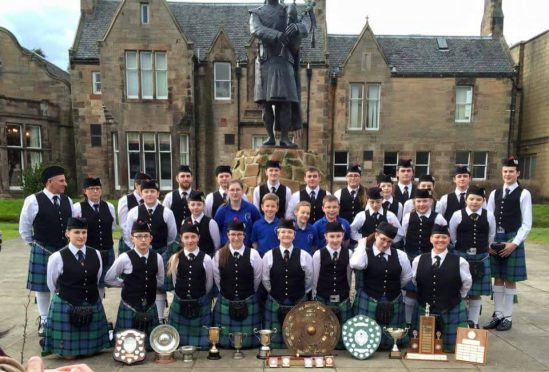 Members of a north-east pipe band who claimed a host of awards at a national competition have been described as the pride of their town.
The Fraserburgh Royal British Legion band picked up 15 prizes at the 40th annual Miniband competition on Sunday.
The event, which was hosted Edinburgh's Redford Barracks, pitted the young musicians against some of the finest bands in the country.
Last night, band chairman, Victor Sutherland, said: "This is something the Broch should be very proud of, as the band are at the forefront of almost all of our community events and parades.
"We need to keep supporting them, so they can continue making us proud."
Among the gongs presented to the Fraserburgh band were the grade two and grade three prizes, as well as a third-placed finish in the grade four competition.
Mr Sutherland said the band also won the junior trio category and Mariha Scott was awarded first prize in the under-15s solo drumming competition.
He added: "I'm privileged to have been asked to take on the position of chairman. I got involved because my two daughters are both drummers in the band.
"To come back home with 15 trophies from the first competition of the year is fantastic.
"It's a very young band – around half of the members are in their early teens."
Mr Sutherland said it was "daunting" for the younger pipers and drummers who are faced with competing with older and more experienced pipe bands.
Yet he added: "They take everything in their stride. They are the future of the band."
And pipe major Denise Buchan – who led the pipers at Redford Barracks – declared: "It was a really good day. It was the first competition of the year and it was great to get a good start.
"Everybody is really excited, particularly the younger ones who are just getting started."