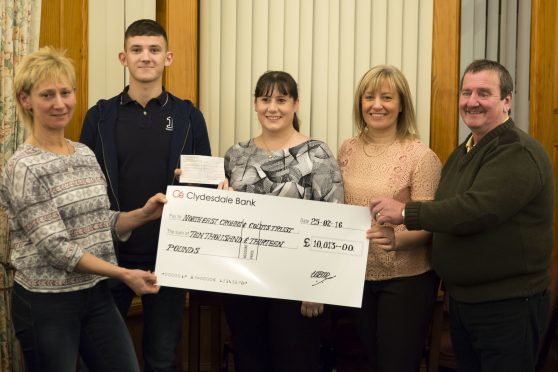 An Aberdeenshire mother has raised more than £10,000 after going on a mission to boost a charity's coffers following her son's diagnosis with Crohn's disease.
Laura Mathers joined forces with friends to organise an event in aid of the local branch of the Scottish Crohn's and Colitis Trust, which is based at Aberdeen Royal Infirmary.
The 51-year-old from Kintore decided to help the cause after her son Shaun was diagnosed with Crohn's four years ago when he was 17.
The fundraising event at the Garioch Sports Centre in Inverurie featured music and an auction and raffle, and more than £9,000 was collected.
Ms Mathers said: "Since my son was diagnosed four years ago I decided I wanted to do something that would raise money for people who are suffering from Crohn's.
"Originally I had planned to walk the Great Wall of China but now looking at how much money we have raised I think doing something which is based within the local community has been more successful.
"To raise the funds we hosted a dance which also featured a raffle and an auction – unbelievably on the night we raised over £9,000 which was more than I had ever imagined.
"At the Tesco in Inverurie we also sold a number of books that went towards our total.
"To hand over the £10,013 that we raised to the nurses at the Aberdeen ward was just fantastic and I really can't thank enough all those who got involved.
"People's generosity was staggering – on the evening we had people giving money for the raffle, but insisting they didn't want a ticket, they just wanted to give money."
Her son Shaun Faskin, who is now aged 21, said: "When I found out how much we had raised I was absolutely gobsmacked, I mean I honestly couldn't believe it.
"To everyone who helped us raise this money, I cannot thank you enough. I am still completely overwhelmed at people's kindness."
Both Ms Mathers and Shaun said they hoped their efforts would help raise awareness of the condition, and they want to continue fundraising in the future.
Shaun said: "When I was first diagnosed my friends weren't all that sure about what Crohn's was, and I think if you don't know anyone who suffers you probably don't know all that much, which is fine, but I hope our efforts in the community will have helped change this."