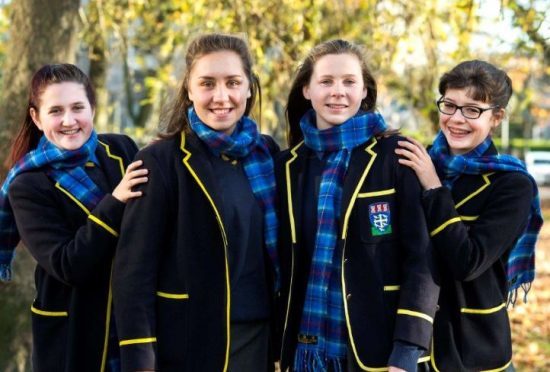 North-east pupils have shown their artistic flair – by helping to design a new tartan for their school's 170th anniversary.
St Margaret's School For Girls' tartan was designed and produced by Edinburgh-based textile company Kinloch Anderson, following a visit by 15 girls from a senior art and design class.
The girls at the independent Aberdeen school decided on the colours for the new tartan based on their current uniform, the house colours of Crathes, Dunnottar and Kildrummy and the geographical and historical colours of Aberdeen and the north-east coastline.
Head of art and design at the school, Kathleen Cowie, said the process took about three months from start to finish.
"The idea for a new tartan was first raised by the pupil council, who thought it would be a good way to mark the school's upcoming 170th anniversary," she said.
"The girls were asked to complete a short written piece about St Margaret's School as background information for Kinloch Anderson to learn about our school, taking inspiration from a range of sources, including Aberdeen and its history and association with the sea and granite, as well as the story of St Margaret's, its school uniform and Saint Margaret and her association with the school."
Pupils held a ballot, voting for their four favourite designs.
These were then sent to Kinloch Anderson, where the information was used to design the tartan.
So far, the school has commissioned scarves for the girls and former pupils.
The launch of the tartan is part of a calendar of events organised to celebrate the milestone.