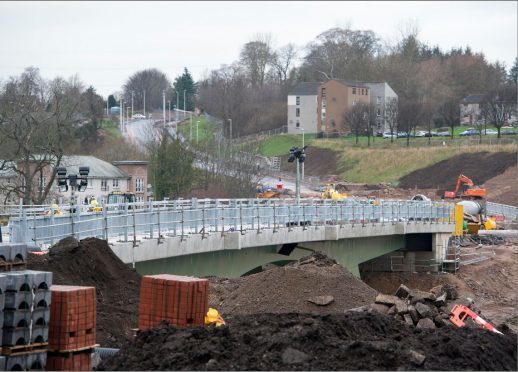 Would you like to shine on the Diamond bridge or take a stroll over the New Grandholme bridge?
These are just two of the potential names for Aberdeen's long-awaited Third Don Crossing.
Primary pupils at schools on opposite sides of the new £18million structure were asked for their suggestions by council chiefs.
The youngsters at Riverbank and Danestone schools were given a list of possibles and asked to pick their favourites.
It will now be up to members of Aberdeen City Council to make the final decision.
Along with the Diamond, chosen to mark the Queen's 60 years on the throne, and New Grandholme, to recognise the existing Grandholme bridge, another seven options have been prepared.
It could be Elphinstone Bridge, after William Elphinstone (1431-1514) Bishop of Aberdeen and founder of Aberdeen University, Gordon Bridge – honouring the Highlanders – or simply the Third Don.
Other names in the running are Gordon Mills, Marischal, the Cruvies or St Machar's.
The Third Don Crossing project requires the construction of two major structures, an 85ft skew span reinforced concrete bridge over the Mill Lade at Grandholm Village and a 295ft span steel box girder bridge over the River Don.
There will also be a new single carriageway link road between the Parkway-Whitestripes Road junction and the Tillydrone Avenue-St Machar Drive junctions.
City council finance vice-convener, Councillor Ross Thomson, said: "We hope the pupils will have fun learning about the historical aspects to the different names – it was interesting for me to find out more about the local area around the bridge.
"The bridge project will transform things for local residents and visitors getting around Aberdeen, along with commuters travelling in and out of the city on a daily basis."
There have been numerous delays in the building of the structure and a workman died at the construction site in January.
Finance convener Willie Young previously revealed that the project may run up to £2million over budget.
Contractor Balfour Beatty said it had been having ongoing discussions with the council and was now expecting to complete the bridge by "late spring".