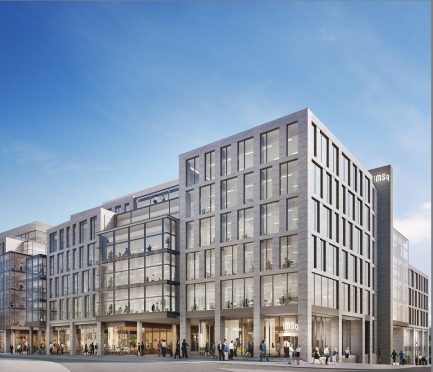 Marischal Square critics are calling for an immediate halt to work on the controversial £107million development, claiming the building breaches European Union competition law.
The Reject Marischal Square group has consistently opposed the multi-use complex which is currently being created at Broad Street and is due to open next year.
Now, they believe the construction work can be halted through a law on EU State Aid – arguing the new council-subsidised development will have to undercut private developments to remain competitive.
The council sold the former St Nicholas House site to Aviva investors for £10million. It will lease Marischal Square for £5million per year for 35 years when it is completed in 2017. It can then buy the site back for £1.
Lorna McHattie, of the protest group, said they had contacted financial watchdog Audit Scotland who were investigating.
She said: "There could very well be state aid implications for Marischal Square given the economic climate in the city.
"In order to even attract any tenants, the council may well try to undercut private developments.
"The council (when the deal was struck in 2013) did not need to consider competing with the private sector, as there was such a scramble for any office space.
"In 2013, office space typically sold for £32 per square foot. That price has fallen by about a third, so we are looking at the best case scenario being to break even.
"We want a moratorium on the building, pending a reevaluation of the development as a money earner for the tax payers of Aberdeen.
An email from Audit Scotland to the group said: "As part of the ongoing audit, the auditors are seeking assurances from the council to determine how they have satisfied State Aid and EU regulation requirements in respect of the Marischal Square development."
Finance convener Willie Young respond objectors should "not talk down Aberdeen".
He added: "At the time we made the decision, we were given legal advice by our officers that we would not break state aid. We followed that advice.
"I would advise these objectors to just look out of their window and see that the building is proceeding as envisaged, will continue to be built, and will be a success for the city."