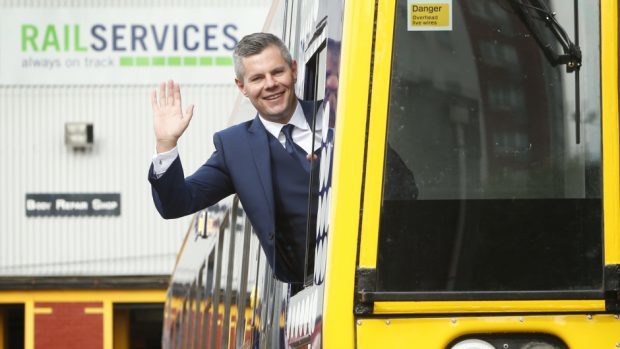 A "rail revolution" will see Aberdeen and Inverness enjoy new high-speed links with the central belt.
Transport Minister Derek Mackay has confirmed that the Granite City and Highland capital will be the major beneficiaries in an expansion of the Scottish railway network.
As well as improved journey times to Edinburgh and Glasgow, both cities will enjoy new local routes, including hourly journeys from Inverness to Nairn, Forres and Elgin.
Additional early morning and late evening services, connecting Aberdeen with Elgin, Keith, Huntly and Insch have also been announced, as has a new hourly local service across the city between Inverurie and Montrose, stopping at all stations.
But the Scottish Liberal Democrats have raised concerns that the new high-speed services will be using "40-year-old trains" that would leave people in the north and north-east feeling "second class".
Aberdeen will receive hourly high-speed services to both Glasgow and Edinburgh, while Inverness will receive a similar service to one of the two cities an hour.
Mr Mackay said: "We have initiated a revolution in rail services across Scotland.
"From 2018, passengers will benefit from more seats, more services and faster journey times as a direct result of the increased funding that we are putting into the rail network.
"The retention of these units will complement the arrival of our new high-speed trains, which will allow for new and improved inter-city connections.
"They will also make our rail network more resilient, creating opportunities to run faster services on key commuter routes and offering better connectivity for regional areas.
"This funding is in addition to the £475m investment in Scotland's rolling stock over the lifetime of the franchise, meaning Scotland's rail passengers have never been better served, both in terms of the quality of the trains they travel on, and the number of services running.
However, the Scottish Liberal Democrats' Tavish Scott questioned the quality of the trains for the new services, which will begin operation in two years.
He said: "People in the north and north-east will want some strong guarantees about the 40-year-old rolling stock that will be used for their connections to the central belt.
"People will be concerned that the Scottish Government is treating the north as second class."
Dutch firm Abellio took over the ScotRail franchise in April last year and pledged to improve services for the north and north-east as part of its bid.
North-east MSP Stewart Stevenson welcomed the announcement and claimed it strengthened the case for rail links to be extended in Buchan.
He said: "We know that the momentum is building behind the re-establishment of a rail link to Buchan. Passenger usage figures across north-east stations have risen dramatically in recent years.
"There is no reason to believe that railheads in Buchan would not be just as well-used as other stations in Aberdeenshire, with all the knock-on economic benefits that would flow from that."