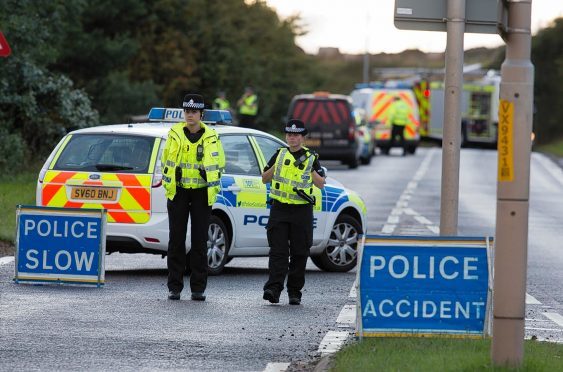 A death crash trial has been told a car involved in a fatal smash on the outskirts of Aberdeen came round a corner "almost sideways".
Pipeline engineer Sander Probyn was giving evidence on the first day of the trial of 36-year-old Vicki Williamson.
She is accused of causing the death of her partner Liam Thornton by driving her silver Vauxhall Corsa carelessly on the A956 Charleston flyover.
It was involved in a collision with Mr Probyn's blue Ford Focus on August 12, 2014.
Mr Thornton, 26, from Kincorth, died as a result of the accident, which happened around 6pm.
Williamson, of 31 Granton Terrace, Dundee, was also injured, as was a four-year-old child.
Mr Probyn told the jury at Aberdeen Sheriff Court yesterday that he had been travelling home to Banchory from Altens.
He said the roads had been wet, but he did not believe it was raining at the time of the collision, and he had been driving more slowly because of the conditions.
He said the first time he saw the Corsa was when "it was coming around the bend" and it was "travelling almost sideways".
"As soon as I saw it coming around the bend I noted that it didn't appear to be in control," said Mr Probyn.
"The tail end of the car was swinging out, that was probably the best way of describing it."
Mr Probyn said he spoke to Williamson after the crash but she did not say anything about the collision.
He said he did not swerve as he did not believe he had enough time to react.
Asked by fiscal Kelly Mitchell what he thought caused the accident, he said: "I think it was the fact that the Corsa was out of control."
Williamson's defence agent, solicitor Alan Finlay, asked why he thought that was the case.
Mr Probyn said: "My guess would be that it was travelling too fast for the road conditions and lost control coming off the dual carriageway."
He also said the Corsa was skidding and "fish tailing".
The court heard there was a camber on the bend and the road had been wet, but witnesses did not recall any defects on the surface.
Offshore surveyor Michael Garden was driving behind Mr Probyn's Ford Focus at the time of the crash.
He said the road was wet but there was no standing water.
He said he did not think either vehicle was travelling at an excessive speed, and because of weather conditions it was possible the Corsa veered into the other lane.
The trial continues.