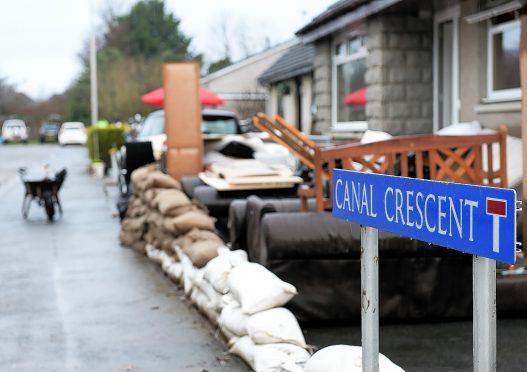 An action plan to get Garioch back on its feet, following the devastating floods which heralded the new year, has taken a step forward.
A flood recovery plan for the area – which was devastated in January after the Rivers Don and Ury overflowed in the wake of Storm Frank – was backed by local councillors yesterday.
In Inverurie and neighbouring Port Elphinstone, 94 homes and 14 businesses were flooded and a further 47 houses in Kemnay were affected by the deluge.
In Kintore, 36 homes and two businesses were flooded, and in Premnay and Auchleven, a further 12 homes were ravaged by the spate.
But Aberdeenshire Council's Garioch area committee has now backed the region's flood recovery plan.
Garioch area manager Douglas Milne said: "Obviously, the ultimate aim is to get people and businesses back to where they were before the floods."
He added a number of key priorities had been highlighted for the area, including restoring the bunding along Keithhall Road and Davidson Park in Inverurie.
Other suggestions were to increase the drainage capacity of pipes at Prospect Terrace and to inspect, clear and upgrade drains and sewers at Victoria Street and Fyfe Park in Kemnay.
Locals in the latter community have also highlighted extending the bunding along the Don near the village and bringing in flood protection at the watercourse near the Milton Meadows area.
Inverurie and district councillor, Bryan Stuart, said: "I am pleased at the detail we have got on the bund at Davidson Park."
Across Aberdeenshire, some 600 houses and 100 businesses were affected.