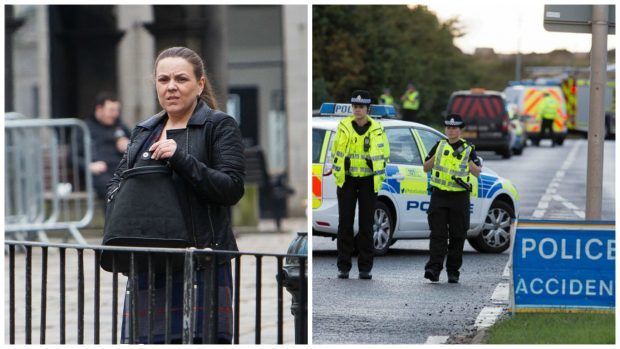 A woman has been acquitted of killing her partner in a road accident – but fined £80 for having an illegal tyre on the death crash car.
Vicki Williamson was giving Liam Thornton a lift to work when she was involved in a smash on a busy slip road.
Mr Thornton, from Kincorth, suffered serious injuries and the 26-year-old died later in Aberdeen Royal Infirmary.
Williamson had been on trial at the city's sheriff court accused of causing his death by careless driving.
She walked free from court after the jury of nine men and six women took an hour and 20 minutes to find the charge not proven.
But Mr Thornton's family said afterwards they were "disgusted" by the majority verdict.
Williamson had admitted driving with a defective tyre, which had just under the 1.6 millimetre tread depth required by law.
She was fined £80 and had three penalty points added to her licence.
The 36-year-old, of 31 Granton Terrace, Dundee, wept in the dock after the not proven verdict on the death by careless driving charge was read out.
Mr Thornton's mother, Donna, said she was shocked by the jury's decision.
The mother-of-six said her son was "just brilliant" and had enjoyed working at Burger King, where he had met Williamson.
The 48-year-old said: "He got on with everyone there.
"He was brilliant – everybody loved him. He was a character.
"It's no justice system."
Another family member said: "I just think it's ridiculous."
The accident involving Williamson's silver Vauxhall Corsa and a blue Ford Focus driven by Banchory man Sander Probyn happened on the A956 Charleston flyover on the outskirts of Aberdeen on August 12, 2014.
The road was wet at the time and during the three-day trial at Aberdeen Sheriff Court pipeline engineer Mr Probyn said Williamson's car came round a corner "almost sideways".
Williamson spent 11 weeks in hospital following the collision, and was treated for a broken pelvis and broken ribs.
A four-year-old child who was travelling in her car was also injured in and her dog died.
Williamson told police in a voluntary statement while recovering that it felt like she had hit "black ice" moments before the accident.
Giving evidence in her own defence, she said she had not been speeding as she came on to the A956 from the A90 Aberdeen-Dundee road.
Sergeant Graham Mutch said there was no evidence to suggest that Williamson was driving in a manner anything other than normal before the collision.
A collision investigation report prepared after the incident suggested the most likely cause of the crash was that the driver lost control of the car due to driving at an inappropriate speed on a bend for the road conditions.
Another police officer, Craig McNeill, described the road as being in a "poor state of repair" and said the road dipped on the carriageway of the slip road where Williamson was driving.