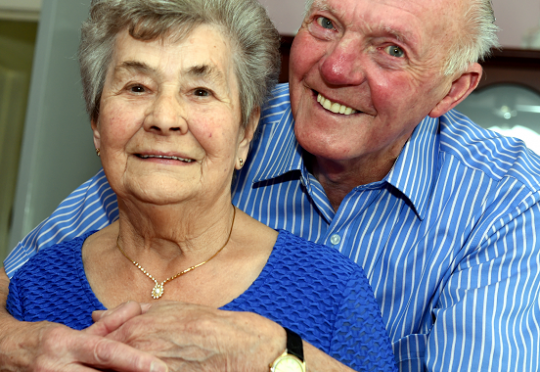 A couple who met at a local dance when they were just 16 toasted their blue sapphire wedding anniversary yesterday.
Albert and Alice Slessor were at a dance in Pitmedden, Aberdeenshire, when they first met and, eventually married at the Station Buffet in Ellon in 1951.
The couple, who still live in Pitmedden, went on to have two daughters and yesterday reflected on watching their family grow over the last 65 years.
Mr Slessor said: "After 65 years of marriage I wouldn't say there is a secret to making it this long – but definitely having some give and take helps.
"Over the years Alice and I have shared some many wonderful memories it is difficult to remember all the highlights over such a long time."
Mrs Slessor, who is believed to have lived in Pitmedden longer than any other resident, added: "I don't know if I could pick out a few happy memories but some of the holidays we have been on over the years have stuck with me, especially those shared with family.
"After 65 years together, from meeting at 16 years old to now seeing our grandchildren and great-grandchildren I now treasure the time I get to spend with them."
The couple, who are both 84, have two grandsons and five grandchildren, and will celebrate their anniversary with the family at the weekend.
Mrs Slessor said she was looking forward to the get-together.
"The family are going to get together, so our two daughters and their husbands and our two grandsons and five great-grandchildren – and that's something I'm particularly looking forward to as it's so difficult now to find time for everyone to get together," she said.
"It's also be a bit of a double celebration as my youngest great grandchild turned one on Wednesday so it'll be a lovely event all round.
"After 65 years I don't think we've got much left to squeeze in over the coming years, we've done such a lot over our time together and I can't imagine doing it with anyone else."
Yesterday, Councillor Allan Hendry and Lord Aberdeen, Alexander George Gordon, marked the occasion by visiting with gifts.
Lord Aberdeen said: "I'm absolutely delighted to make a visit on behalf of the Lord Lieutenant of Aberdeenshire who is representing the Queen, and this is the first 65th wedding anniversary I have ever had to do.
"I've done lots of 60th anniversaries – but never a 65th – so I'm delighted to congratulate them on reaching this special milestone."
Mr Hendry added: "I was here five years ago for their diamond anniversary, this is also my first 65th wedding anniversary celebration and I'm thrilled to be here today to present Albert and Alice with flowers and the whisky and a card on behalf of Aberdeenshire Council, and of course from the provost."