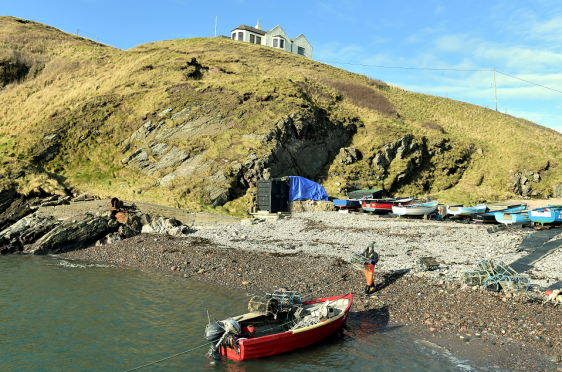 Fresh hopes have been raised for a fishing community in Aberdeen which is facing the threat of eviction from a landowner.
Labour candidate Lewis Macdonald visited Cove Harbour this week to meet the owners of the area's fleet of historic fishing vessels.
Pralhad Kolhe, a surgeon who owns the white house above the bay and some of the surrounding land, last year ordered the fishermen – some of whom rely on the sea for their livelihoods – to remove their boats from the natural harbour.
Over recent months the surgeon has angered the owners of the dozen vessels berthed in the harbour by putting in place obstructive boulders across the pier to prevent vehicular access, as well as rubble to hinder movement of the boats themselves, and signs stating the historic bay is private property.
But earlier this week Mr Macdonald highlighted a story about a similar situation in Galloway, and spoke to the head of the Cove Fisherman's Association, Jim Adam.
Mr Macdonald said: "The reason I got involved was to see for myself what the landowner has actually done, and speak to the community about what the options might be.
"I wanted to let the Cove fishermen know about some very interesting evidence that came before the economy committee from a community in the south of Scotland called Port Patrick, down in Galloway.
"The local people put together a community benefit trust in order to take control of a harbour there.
"They raised money, and took control of the harbour, which allowed them to do all sorts of things they were'nt able to do.
"It was a very similar situation to the one that we have in Cove, in that the harbour was suffering from neglect.
"I had a very interesting discussion with Jim. We agreed to keep in touch, and I'm sure something will come out of our conversations in the next few weeks."
Earlier this week a petition with more than 10,000 signatures in support of the fishermen's cause was handed to Aberdeen City Council, where it could go before the petitions committee next month.
Mr Kolhe declined to comment last night.