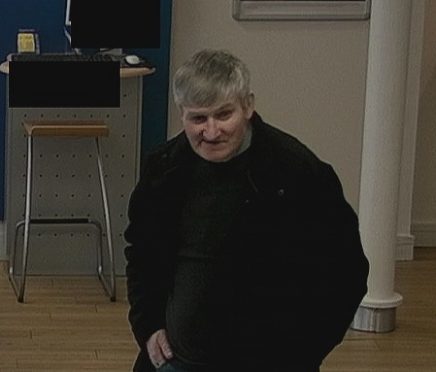 Police have released a CCTV image showing the last time murder victim Brian McKandie was seen alive.
The image was taken from CCTV footage from a bank in Turriff on the day that he was murdered.
On the way home from the bank he popped into a garage which had links to his business then spoke with a friend before heading to his bungalow.
Mr McKandie was found dead in his home at Fairview Cottages, Badenscoth.
Detective Chief Inspector Iain Smith said the self-employed car mechanic was known to keep cash in his house and could have been the victim of a robbery at his home.
Dive team units have been searching streams and undergrowth near his house for the weapon used in the assault and other items such as blood-stained footwear and clothes which could give vital clues about the person responsible for his murder.
Police have also been stopping motorists travelling in the area to check whether they were driving along the same road two weeks ago and noticed anything suspicious.
Other officers were trying to track down two sets of men seen speaking to the pensioner at his cottage on Friday, March 11.
Chief Inspector Iain Smith said: "We continue with a forensic examination of the home address trying to establish a motive for this crime is still our main line of investigation.
"Certainly a robbery is one motive alongside a number of others.
"Whoever has carried out this crime will have arrived back to their home address in a dishevelled state and must have been in an agitated frame of mind after a crime like that.
"Somebody out there knows something but whether Mr Mckandie's attacker was known to him or not I can't say.
"Brian's brother and sister are obviously desperate for us to catch whoever has done this to their brother so they can get the answers they want and start to try to come to terms with what has happened.
"For their sake I would ask again for anyone with information about this incident to come forward."