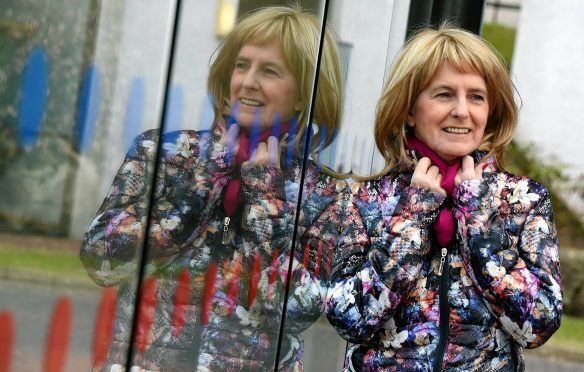 As somebody with a passion for the great outdoors, there's nothing Sheila Di Maio would have loved more than to have gone on her skiing holiday last Easter.
However, 14 months ago, the head teacher of Banchory Academy was diagnosed with cancer and was forced to undergo life-changing surgery, accompanied by gruelling chemotherapy and radiotherapy, leaving her unable to travel.
Overwhelmed by the support from her large circle of family, friends and colleagues, Ms Di Maio, 60, of Aberdeen, has also been touched by the kindness of strangers throughout her battle with the illness.
She said: "When I phoned to cancel my skiing holiday, the chap did all the business and when we finished he said: 'I really hope everything's okay for you'.
"He didn't need to say anything, but I was touched by that gesture of kindness.
"I've had a tremendous amount of support which has really lifted me.
"I have also become aware that many people around you can be carrying what are invisible illnesses and burdens and it is so important to make kindness your first mode of contact with anyone."
Now, eight weeks after surgery, Sheila is making excellent progress and is looking forward to the future. She said: "2015 was pretty challenging for me, but suddenly I feel as if I have just been fired out of a cannonball or squeezed out of a tube of toothpaste and I am hurtling away from it all now – it's brilliant.
"I am starting to plan things again, because last year, things changed so often, and illness hit me so often, I couldn't."
Although she was hoping to be back at school after Christmas, her treatment schedule changed and she has accepted she won't be fully fit and able to return to work until next month.
A popular teacher at the school, her pupils have paid a touching tribute to her by raising money for Friends of Anchor – the charity which has supported Ms Di Maio and many others through their ordeals.
She said: "There are a group of children at school who, during our activities week, chose to do an expedition called Cross Scotland – an arduous walking, cycling, canoe journey across Scotland – to raise money for charities.
"They have chosen two charities this year and one is Friends of Anchor.
"I was really moved when the pupils said they would raise money for the charity.
"I didn't really know that much about them until I experienced for myself what they do.
"I just remember thinking, all the people that I came into contact with, the volunteers, the nurses, the therapists, they were just so kind and caring and I thought I had to do something to pay back. Courage on the Catwalk will be part of that."
"It has been a great experience so far with 24 great ladies and the Friends of Anchor and Premiere teams."
Although Ms Di Maio is now on the road to recovery, this was not her first experience with the disease. Twenty years ago, she suffered what she described as a "minor brush" with breast cancer.
She said: "It was diagnosed and dealt with very quickly with a lumpectomy, removal of nodes, radiotherapy and five years of drug treatment.
"You do get a wake-up call when you hear that diagnosis, it's just not something you expect to hear for yourself.
"I was only 39 and it just seemed terribly young. So, I spent my 40th birthday in radiotherapy and my 60th in chemotherapy. I think I may stick with the mid decades for my big celebrations in future.
"But I have had 20 great years since then and I said to my current consultant team that I want another 20. I have had excellent care which has set me up for that, but part of it has had to be down to me as well."
She discovered that her diagnosis was a motivation to achieve goals – embarking on a sea kayaking trip for the first time last August was one of them – and do whatever it took to get better.
And with lots of things she still wants to achieve, she is determined to take more time for herself.
She said: "I have a decision to make about how much longer I want to work. My job is quite demanding and has its stressful moments, but I do love the job and it is a great school.
"However, I want to go to Antarctica at some point, and friends want me to go sailing with them this year."
Reflecting on her experience, her advice to those who might be facing a cancer diagnosis was to seize whatever opportunities they had.
Ms Di Maio said: "I am naturally a positive and resilient person, but it can be hard when people put that pressure on you to 'stay positive' if that's not your natural demeanour.
"However, I do feel that a positive mental attitude can help when things get challenging.
"Whatever your prognosis, whatever time you have left, just live it to the full.
"Be kind, laugh a lot, spend it with the people you love and who love you, for me that is the most important thing."