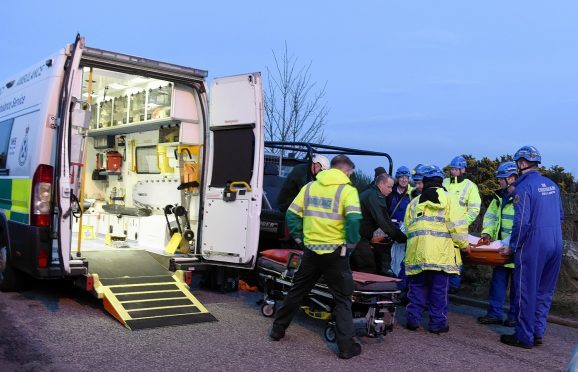 A 20-year-old man was left stranded on a beach in Aberdeen for almost two hours last night after suffering a fall and breaking a limb.
Emergency services were called to the incident at the entry to the River Don, near Donmouth Road, shortly after 6.30pm, but were unable to transport him to hospital immediately, due to a lack of vehicle access.
Ambulance crewmen requested assistance from the coastguard who sent a helicopter and a lifeboat to the scene.
Paramedics eventually opted to send a Polaris Ranger vehicle across the beach to transport the injured man back to Donmouth Road where their other vehicles were stationed.
The man, understood to be a student at Aberdeen University, had been out with a friend at the beach when the accident took place.
The friend, who requested anonymity, described what happened.
He said: "We were playing around at the dunes and he decided to jump, but lost his footing.
"When he was on the way down, he grabbed me and I landed on top of him and all I heard was a loud crack.
"When I got up and looked at his leg, it was misshapen and his ankle was broken.
"I then made the call to the ambulance."
Speaking from the scene Kenny Rattray, a team leader with the Scottish Ambulance Service, described the rescue operation.
He said: "We were called out to [help] a male who was injured on the beach.
"The operation involved the coastguard, a lifeboat and special operation from the ambulance service.
"The male had a broken limb and was retrieved by a Polaris Ranger vehicle and he will now be taken to hospital."
The man was eventually transported to Aberdeen Royal Infirmary at around 8.30pm.