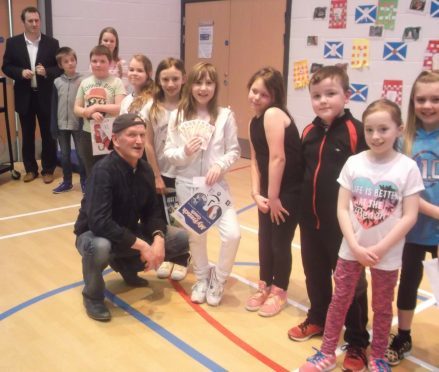 Local entrepreneurs and businesses helped a north-east primary school raise more than £2,500 at a Dragons' Den-inspired event.
Five Aberdeenshire "dragons" visited Longside Primary School for the event, which was aimed at raising cash for resources and new school equipment.
The five were Wendy Marr from Genesis Personnel, Charlie Clark from LJF Coating Ltd, Stuart Cowie from Cowie Seafoods, Scott Buchan from JBS Group and Sam Begg from ASCO.
During the challenge, enterprising school pupils pitched their ideas to the entrepreneurs in the hope of winning funding for their proposed equipment.
All classes took part, pitching one idea per class, and secured a total of £2600, surpassing their original target of £750. Successful pitches included funding for art easels, a gym box and Lego toys.
Parent Teacher Council member Ali Hynd, the organiser behind the fundraiser, said: "We wanted to do something a little different to raise funds this year and thought the Dragons' Den concept would be a great idea to get some of the region's entrepreneurs involved.
"The event has also been a great way to help teach the kids the value of money, as well as develop their presentation skills, and I'd like to thank those who took part, contributed or helped organise it."
Headteacher John Imlah added: "This was a great learning experience for the children who had to collaborate to devise a compelling pitch for their bid.
"It has also helped promote links with local business and we are overwhelmed by the generosity of the sponsors."