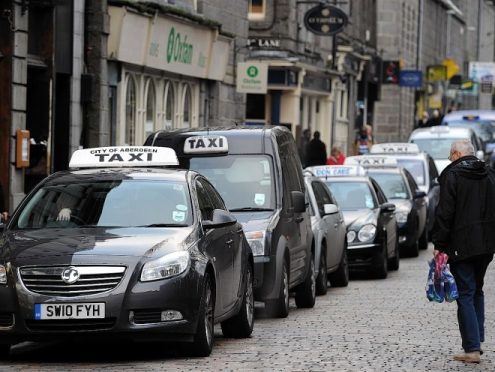 Taxi drivers in Aberdeen could soon be forced to make their vehicles wheelchair-accessible, despite objections from union bosses.
There has been growing opposition to the city council's current plans, which will mean all hackney drivers have to adhere to the new regulations by next year.
Unite has claimed there is already sufficient provision in the Granite City, with more than 500 vehicles equipped for wheelchair users.
Last month, the city council's licensing committee agreed to consider holding a public consultation into the plans after seeking legal advice.
But now, licensing officers have called on the committee to press ahead with the scheme, which is due to come into force next June.
Their decision formed part of a report, which will be discussed by the committee tomorrow.
Last night, the union's north-east representative made a fresh appeal to the authority to hold a consultation.
Tommy Campbell, regional officer, will speak at the meeting.
He said: "All we are asking for the council to do is to consult with everybody to make sure they are going along the right road, because what we are hearing from people is that they don't want this.
"We have information coming back from our disabled customers that they want a mixed fleet.
"If they hold a review and the feedback is that people are in favour of a 100% fleet, then that is fair enough, but all we want is for the consultation to take place before a decision is made."
Mr Campbell previously claimed the union carried out its own survey of hundreds of passengers who were broadly against the plans.
It has also been argued that some disabled passengers prefer travelling in a saloon car.
However, the committee report raised concerns that a mixed fleet could lead to a "two-tier" system which would be unlawful.
The report added: "The concern is that such an arrangement would create perceived unfairness and resentment between those drivers who have to purchase an accessible vehicle and those who can operate a saloon."
The authority's position is also supported by the Wheelchair Action Group, made up of taxi drivers in favour of a 100% wheelchair accessible policy.