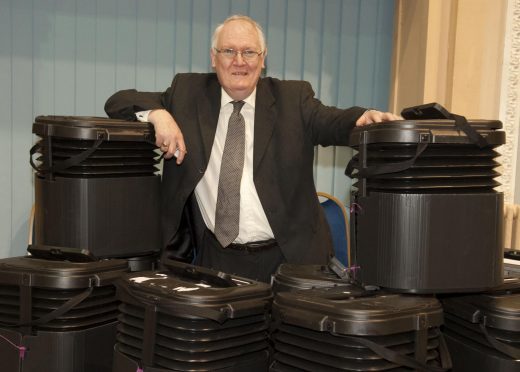 He is the Granite City vote counter who has seen many happy returns for Labour, the Conservatives and the SNP during a forty-year career.
But Crawford Langley, Aberdeen's chief returning officer, will soon be surveying his last ballot boxes as he takes part in an historic second vote on Britain's membership of the European Union.
It will be an emotional occasion for the 65-year-old, who is now the second longest-serving electoral administrator in Scotland, as he prepares for his last count after serving in the first referendum in 1975.
Mr Langley has aimed to ensure "free and fair" elections for Aberdeen voters for the past 20 years after beginning his career in Strathclyde in 1974.
But he said there have been great changes since the days when a hammer and crowbar to open the jammed ballot boxes of yesteryear were standard pieces of kit come election night.
Mr Langley reflected on his life at the polls yesterday, playing his own small part in history-defining events like the Conservative landslide of 1979, Labour's epic 1997 win and 2014's Scottish independence referendum.
Yet, despite the huge changes in the political and constitutional makeup of the UK, Mr Langley said his focus was always on fairness.
He said: "It may sound strange, but the politics don't come into it. I don't really think about the results until I read my newspaper the next day.
"What we are doing, at all costs, is ensuring we do everything in our power to make sure any election or referendum is free and fair.
"We want to make things as fair for all candidates and don't consider their politics of any hue."
Mr Langley summed up an average election day as "a lot of waiting about, then it all happens."
He added: "About 11pm, the first boxes come in and then it starts to go quickly.
"Sunderland tends to be the first count, but they do things like adjust the traffic lights and hire professional athletes to run the boxes in.
"For us, it's much more about the accuracy and transparency of the poll."
Barring unexpected by-elections, Mr Langley will finish where he started with local government elections in 2017.
He added: "I don't think they need me now and I've had a lot of fun doing this."