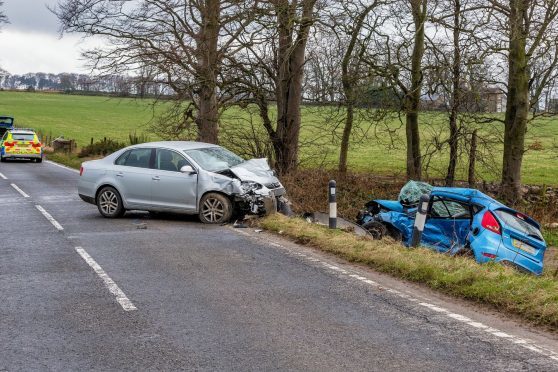 An Aberdeenshire woman killed in a horrific crash was described last night as a "happy, lovely mother".
Helen Thorley died after a two-car smash on the B9170 New Deer to Inverurie road.
The 50-year-old was treated by paramedics at the scene of the accident – involving a silver Volkswagen Passat and a blue Ford Fiesta – but died in Aberdeen Royal Infirmary.
She was alone in her vehicle when the accident happened at Barravale between Inverurie and Oldmeldrum.
The female driver of the other car suffered serious injuries and was taken to ARI.
Her condition was not known last night.
Ms Thorley was from the Oldmeldrum area and in a statement released yesterday her children said: "We are absolutely devastated at the loss of our mum, who was a much loved daughter, sister, aunt and friend.
"We will support each other as a family and ask that we are left alone to grieve."
Formartine councillor Paul Johnston said Ms Thorley was a close friend of his family.
He said: "It is a bit of a shock. Our sons are friends. It is an extremely difficult time for everybody, for the family in particular.
"She has been in Oldmeldrum for a while. A lot of people will have known her and the family. There will only be happy memories of her.
"A lot of people will have known Helen well. It is one of those very difficult moments. She was always somebody that was happy, always a lovely person, and I can't say much more than that."
The co-leader of the Democratic Independent and Green Group on Aberdeenshire Council added: "There is very little I can say other than the fact it is a tragedy when it is somebody who has still got a lot to live for and is killed in a crash."
SNP councillor for Oldmeldrum, Cryle Shand, said: "It a tragedy. I was on that road just about an hour beforehand. It is a terrible tragedy for the families involved in these situations.
"I lost my own father in a car accident so I understand how devastating it is when these things happen. I can only express my sympathies."
The stretch of the B9170 where the vehicles collided was described by locals as a former blackspot for crashes.
However, they added there had been fewer accidents since the road surface was improved.
Both cars were left wrecked after the crash, which happened shortly before noon on Sunday, with the Fiesta forced into a field by the impact.
Chairman of the Meldrum Community Council, James Milton, said: "There is a lot of accidents on that road but I don't think there is anything particularly wrong with the road itself.
"It is such a shame we get so many in the north-east."
A police spokeswoman said: "Following a fatal road traffic collision on the B9170 Inverurie to Oldmeldrum road on Sunday, April 3, Police Scotland can confirm that the woman who died is Helen Thorley, aged 50, from the Oldmeldrum area.
"Police are urging anyone who saw either of the two vehicles prior to the collision, or anyone who stopped to offer help, to contact them on 101."