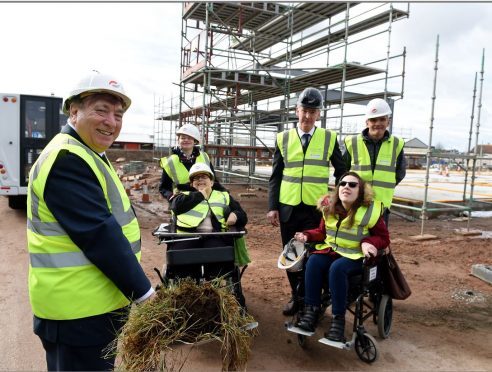 Ground was broken yesterday on a new £4.3million disability learning centre which is set to rise from the ashes of a fire-ravaged former Aberdeen day centre.
The Burnside Day Centre in Mastrick Drive was engulfed by flames in February 2014 after 60 firefighters battled for more than 16 hours to extinguish the flames.
The site had been disused since 2010 when it was closed due to Aberdeen City Council spending cuts.
However, Integration Joint Board chair, Councillor Len Ironside, was joined by service-users yesterday to cut the first sod to mark the start of building work.
The new centre, which will replace the ageing Rosehill Day Centre in Ashgrove, has been fully funded from Aberdeen City Council's capital programme and will be managed by the new Aberdeen City Health and Social Care Partnership.
It will provide support and activities for up to 80 adults with severe learning and physical disabilities and employ 40 staff when it opens its doors later this year.
The centre will also cater for the local community with the board aiming for them and resideto mix.
It will feature a café and a sensory garden which will be created and planted following completion of the building- both will be open to the public.
Mr Ironside said: "One of the great things is that the construction is being carried out only by local firms so this is a boost to our local economy.
"The sensory garden will be open for people to visit and the café in the centre will also be a public facility. We want the new centre to be not just in the local community but a true part of it."
Mike Bruce of Morrison Developments said: "Because of the fire we had to be extra careful when clearing the ground and laying the foundations.
"Folk will see the work really move ahead in the next two weeks."
Suggestions for a name for the centre will be gathered by officers from service-users and the local community over the coming weeks, and IJB members will choose from the shortlist this summer.
Service user William Balgowan, 44, said: "I just can't wait for it to open."