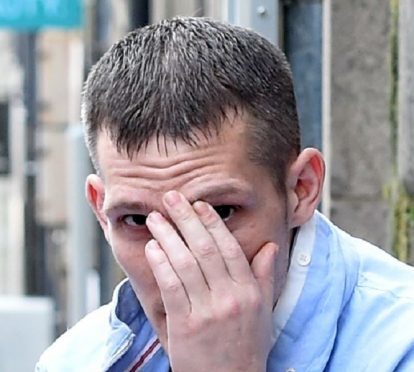 A thief has been imprisoned after carrying out a late-night raid on a north-east grocery store, where he stole cigarettes, alcohol, and a till worth thousands of pounds.
Neil Mackay, along with another man, smashed a window and forced entry into the Mace store on North Deeside Road, in Peterculter, which also doubles as the local post office, in March 2015.
The pair made off with cigarettes, tobacco, alcohol, and a cash-laden till, worth more than £4,800.
The 33-year-old pleaded guilty to the offence when he appeared from custody at Aberdeen Sheriff Court yesterday.
Mackay's accomplice, who was not named in court, had already been jailed for the offence.
However, Mackay was unable to appear in court at the same time after he was struck down by a flesh-eating disease which left him on the brink of death.
Fiscal Anne Macdonald told the court that at about 4am on March 17, a resident who lived across the road was woken up by loud banging followed by the burglar alarm.
The resident looked out of their window and saw one man carrying boxes from inside the shop to the street where they were loaded into a car. Another man remained outside the premises throughout.
The police were subsequently informed and shop owner, Mohammed Rauf, was also alerted when the alarm was triggered.
After arriving at the scene, officers carried out a search for the car in the local area and discovered it abandoned near farm land.
Initially, they thought the culprits had fled the scene, but later found Mackay lying down in a field in an attempt to hide from police after he realised they were searching the area.
A number of items were found close to the car after the pair threw them from the vehicle to try and evade the police.
Miss Macdonald confirmed that there had been partial recovery of the stolen goods.
Defence agent Graeme Murray told the court Mackay's "brush with his own mortality" had made him a reformed character.
He said Mackay, who had undergone major surgery and skin grafts, had no memory of the incident, as a consequence of his worsening health and drug habit.
And he added that Mackay was full of remorse over his actions.
Sheriff Graham Buchanan jailed Mackay for 11 months.