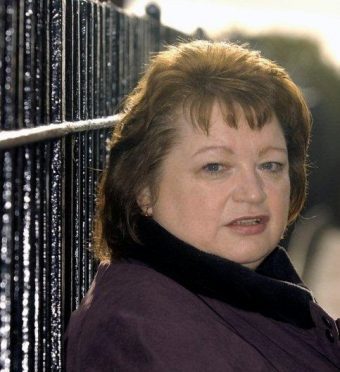 Police Scotland has been ordered to carry out a review into the way it handled an incident involving a north-east woman with severe mental health problems.
Meg Henderson, who now lives in the western Highlands, accused the police of failing to help her distressed daughter, Marion, in June 2015.
On June 20, the latter had travelled from her London home to Inverbervie, where the family had previously stayed.
Two officers who were on patrol spoke to Ms Henderson and took her to her old address, but were told by the occupant her family no longer lived there.
Police subsequently helped her book a room in a hotel, but she returned to the house the next day.
The occupant could see Ms Henderson was in a "vulnerable" state and alerted her sister-in-law, who lived in Laurencekirk.
Ms Henderson's brother, Euan, was also alerted and asked police to help him take his sister to hospital over fears she was a danger to herself and the public.
But, after both her mother and brother spoke to the control room, Mr Henderson was forced to take his sister to both Cornhill Hospital, and Aberdeen Royal Infirmary, by himself.
Mrs Henderson subsequently made a formal complaint to the police about their handling of the situation
She claimed the initial two officers should not have left her daughter by herself in the hotel.
Mrs Henderson also said the police control room should have sent officers to assist her son.
And she also argued that police should have notified staff at Cornhill that her son and daughter would be attending.
However, Mrs Henderson was told by a senior officer they were unable to uphold her complaints.
She later applied for a review into the response, which was carried out by the Police Investigations and Review Commissioner.
The latter body agreed with the force's response to the first complaint, but called for a review into its response into Mrs Henderson's other complaints.
Last night, Mrs Henderson claimed police should have conceded they had mishandled the incident immediately.
She said: "I want written apologies to myself and my son from the chief constable.
"They (police) would have been far better to admit they got it wrong in the first place.
"It chimes very well with what happened just a few weeks later when the couple were found in the car."
This was a reference to the notorious case involving John Yuill, who died in a car crash which was reported to police – who failed to respond – and Lamara Bell, who lay injured for three days in the car on the M9 in Stirlingshire before succumbing to her wounds last July.
Last night, a senior police officer said a review would take place in the near future.
Superintendent George MacDonald said: "Police Scotland acknowledges the findings and recommendations of the PIRC report. We acknowledge where we dealt with the situation appropriately, but also crucially, the areas where learning points have been identified.
"We have put the necessary reviews in place to address these matters."