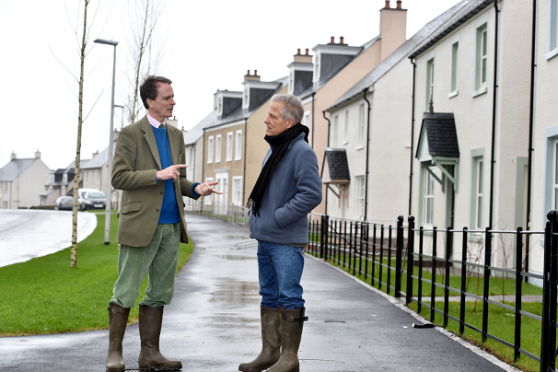 A public engagement meeting is to be held at the north-east's newest community.
Local Aberdeenshire residents are being invited to view and give their opinions on the future of Chapelton of Elsick.
The planners behind the £2billion development, near Newtonhill, are in the midst of building 4,045 houses, along with all associated amenities.
The Way Ahead open day will take place on Saturday, April 16 and will provide the Chapelton community, as well as those living in the surrounding area, with the chance to comment on the next stage of the venture.
Elsick Development Company hope to eventually create 8,000 new homes on the site.
Directors from the company, along with house builders, AJC, Stephen and ZeroC, will be on hand at the Way Ahead event to receive feedback from 11am until 4pm in the town's Community Cabin.
Around 70 residents have already moved into the town and, last year, the second phase of construction of some 100 homes got under way.
Director of the Elsick Development Company, the Duke of Fife, said: "Following the success of the first stage of Chapelton's initial neighbourhood, Cairnhill, we are quickly working towards the development of the second stage and welcoming feedback from local residents for this exciting section of the development.
"In the coming months, work is set to commence on a wide range of properties, including bungalows, apartments and houses.
"Future ideas also include the development of a retirement village, pub and additional commercial properties which will serve the local community and provide a variety of job opportunities.
"I look forward to hearing feedback from local residents regarding our proposed plans and taking their thoughts into consideration as we develop the next stage of Chapelton."
The masterplan for Chapelton includes seven neighbourhoods, schools, healthcare facilities, parks and community buildings.
For more information on the Way Ahead open day event in the Chapelton Community Cabin on Saturday 16 April, visit www.chapeltonofelsick.com